Has your favorite Big Ten team been tested?
Records aren't everything even if they are what matters in the end
The conference standings are both the ultimate truth and the biggest lie. A team's record doesn't tell us everything, especially at this point in the season.
There are 12 Big Ten teams in contention for an NCAA Tournament berth, and all of them have played vastly different conference schedules up to this point.
Who and where you play absolutely matters in the league where home teams have won 80% of their games and 12 of 14 teams are in the KenPom top 40.
"This is such a screwed up schedule," Tom Izzo remarked after a Thursday night loss at Indiana. "Does anybody know where anybody is?"
To sort out the mess, I created a basic visualization to represent schedule achievement up to this point.
I sorted all of the potential games that a team can play by KenPom rank, using a positive weight on road games and a negative weight on home games.
Using that list, we can compare what games teams have played, won, lost, and have remaining. Here's the entire breakdown of the league's 12 NCAA hopefuls, sorted by conference record from left to right.
Squares in gray are not on the schedule, wins are green, losses are red, and remaining games are tan. Neutral court games are denoted with a black border.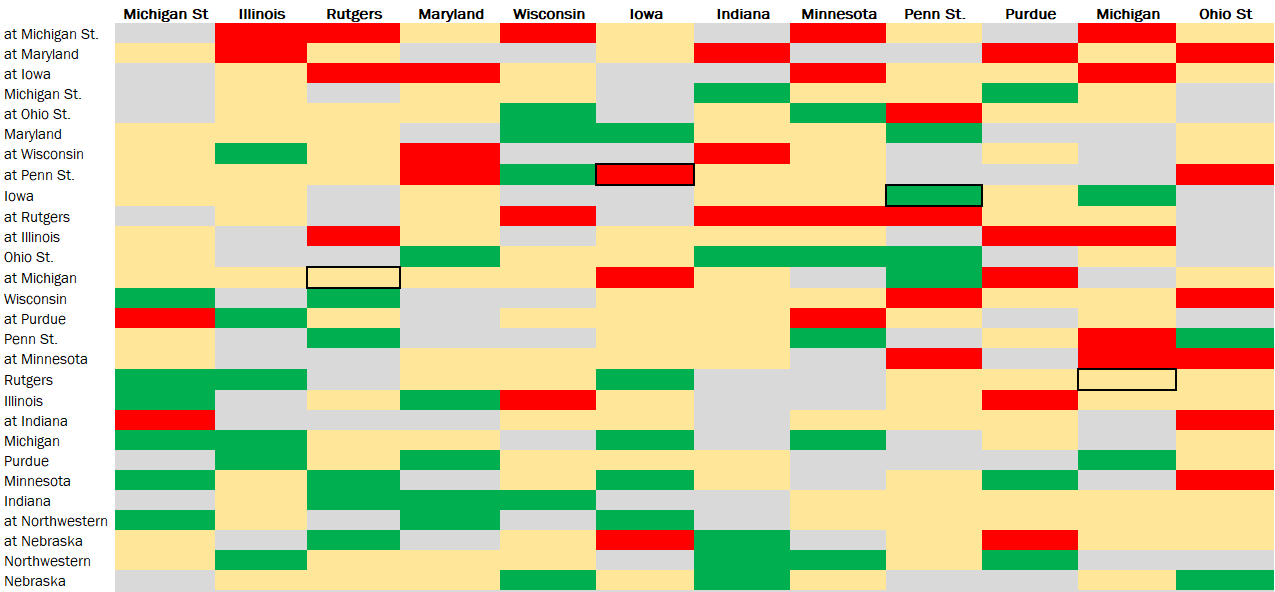 Winning up
There are only four teams in the conference who have gone on the road and won against a team other than Nebraska or Northwestern.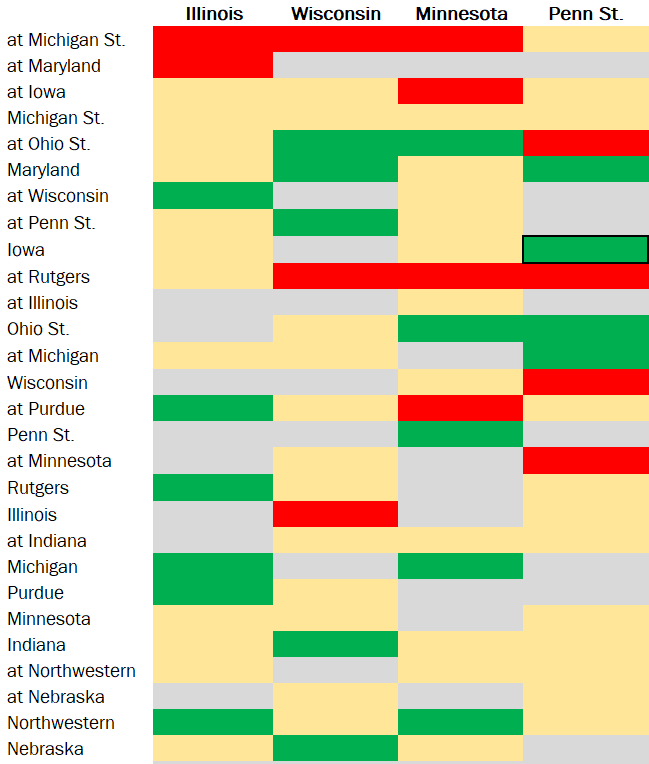 Wisconsin: Wisconsin is 3-2 in its seven most challenging league games with two to play. The Badgers dropped a home game to Illinois, but have arguably the three best wins in the league.
Illinois: The Illini have two road wins, and their two losses are the most difficult games on the schedule (at Michigan State and Maryland). They still have to play eight of their eleven most difficult games, starting with a trip to Ann Arbor on Saturday.
Penn State: Penn State still hasn't played the three most challenging league games on its schedule, but it hasn't played the eight easiest games on its schedule either. The Nittany Lions have a solid base of wins and an opportunity to make a run.
Minnesota: The Gophers are 3-4 in their 11 most challenging games and have already played their three most difficult road games. There's still a lot of work left to do on the schedule, but Minnesota is in a strong position despite its 5-4 record.
Big tests coming
This exercise should serve as a warning to Michigan State, Rutgers, and Indiana because they have a lot of heavy lifting remaining.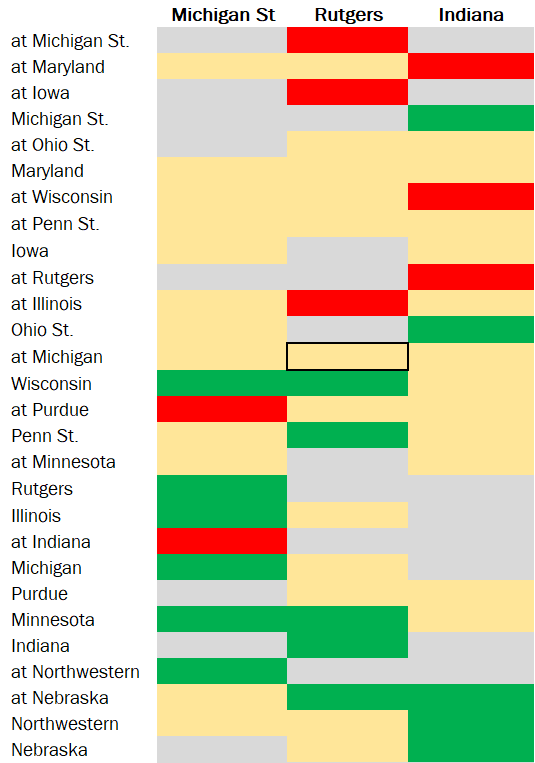 Michigan State: Michigan State is 6-2 in the league, but it still has to play its eight most difficult Big Ten games — at Maryland, Maryland, at Wisconsin, at Penn State, Iowa, at Illinois, Ohio State, and at Michigan.
Indiana: No one plays Nebraska and Northwestern four times this year, but Indiana is the only team to have played all three of its games against the two cellar-dwelling teams. There are no more free squares for the Hoosiers with six road games remaining.
The Hoosiers have played the easiest schedule in the conference, per KenPom, but have been outscored by 2 points per
Rutgers: The Scarlet Knights are the story of the Big Ten season thus far, but they have only played three of their nine most difficult games (all losses). Rutgers doesn't have a bad loss and it gets to play a game "at" Michigan an hour away at Madison Square Garden which lessens the load a bit.
Is this thing on?
Purdue, Michigan, and Ohio State are the three top-40 teams with a losing conference record.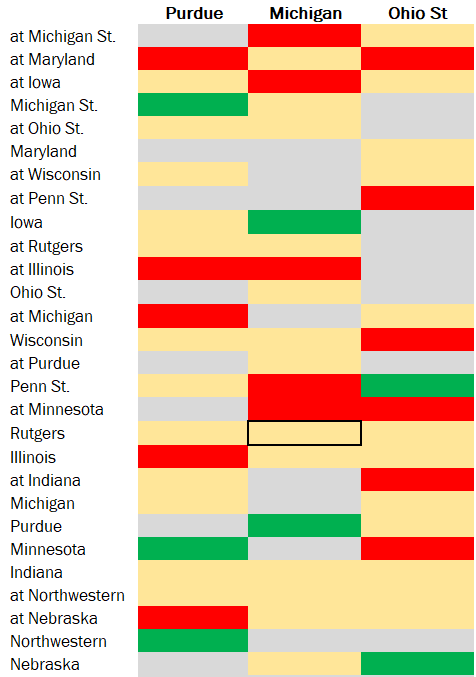 Michigan has played the toughest schedule in the conference and probably has the most runway for a turnaround (three games remaining against the bottom two), but the clock is ticking. The Wolverines can't afford to lose more games at home, as they did against Penn State on Wednesday.
Ohio State has already dropped two home games, but two of its six remaining road games are at Northwestern and Nebraska.
Purdue has the best win in this group, but it has already lost to Illinois at home and at Nebraska.