Is Rutgers for real?
The Scarlet Knights are 14-4 and ranked for the first time in 41 years
Rutgers won an average of 2.3 conference games per season during its first four years in the Big Ten.
It is only January of Steve Pikiell's fourth season at Rutgers, and his team is already 5-2 in the league, ranked for the first time in 41 years and in contention to make the NCAA Tournament.
In games played since December 10th, Bart Torvik's adjusted efficiency numbers rank Rutgers as the best team in the country. The Scarlet Knights already have quality wins over Wisconsin, Seton Hall, Penn State, Indiana, and Minnesota.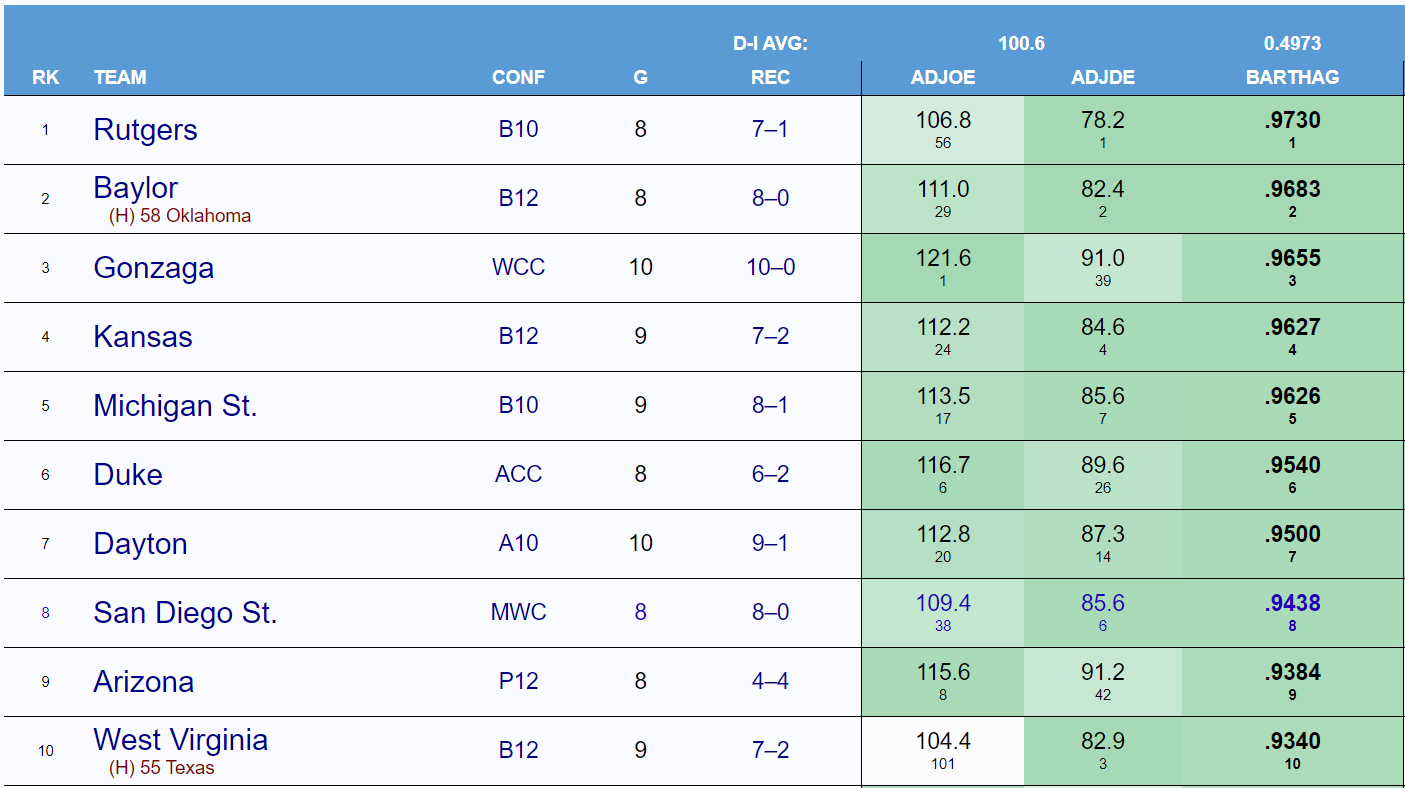 How did Rutgers get to this point? It starts with defense.
Building a foundation
Pikiell's team started from the ground floor and hasn't taken any shortcuts to get to this point. It was clear from the outset that his program would play as hard as any team they faced. They just didn't have the talent to win games.
From day one, Pikiell's teams excelled in effort areas like offensive rebounding and shot blocking yet consistently finished 300th or worse in effective field goal percentage. The Scarlet Knights played hard as hell, but there's only so much that you can accomplish without making shots.
They still aren't scorching the nets by any metric — only Nebraska and Northwestern have worse adjusted offensive efficiencies — but they have made just enough shots this year for their defensive effort to pay off.
While Rutgers has improved on the offensive end of the floor, this story is still all about the defense. Rutgers leads the Big Ten and is ranked 10th nationally in half-court man-to-man defense, per Synergy.
Guard your yard
What makes the Rutgers defense so effective? It starts with its ability to defend the three major play types in college basketball: ball screens, post ups, and isolations.
The Scarlet Knights are among the best teams in the country defending all three areas.
They are ranked 2nd in the Big Ten in ball screen defense, both in efficiency (points per play) and points allowed per game.
They are ranked 1st in the conference in points allowed per post-up play, and second in points allowed per game out of post-ups.
Defending isolations, the Scarlet Knights are ranked second in points allowed per play.
Many teams excel defending one or two of those parts of the game, but very few teams are at the top of the conference in all three significant statistics.
Comparing the league's defensive landscape across isolation, ball screen, and post-up plays, it becomes clear that Purdue and Rutgers are the class of the conference.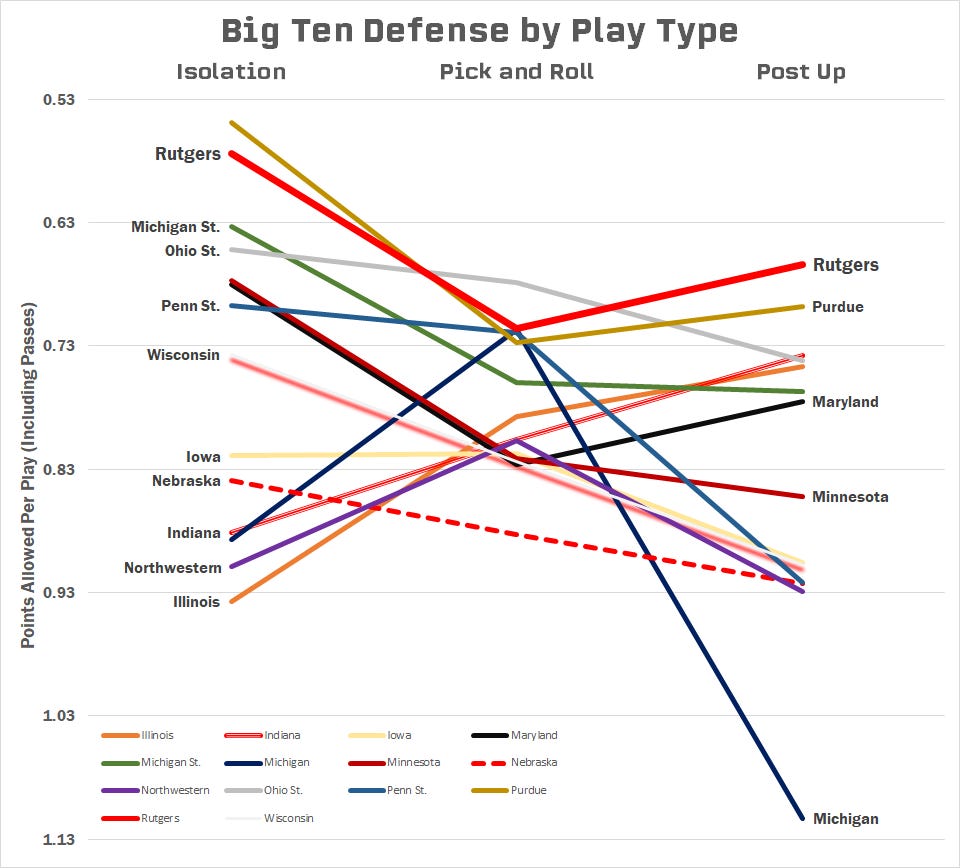 Rutgers' win over Minnesota on Sunday afternoon was a prime example of what makes this unit so effective. The Golden Gophers attack primarily out of high ball screens between Marcus Carr and Daniel Oturu.
Over the last 12 games, Minnesota was averaging 21 points per game out of ball screens, including 28 points against Purdue, 22 points against Michigan, and 39 points against Ohio State. Against Rutgers, the Gophers managed to score just 8 points on 22 ball screen plays.
Most teams that have faced Rutgers have struggled to create offense against this Rutgers ball screen defense that forces the ball away from the ball handler with an aggressive hedge.

Room to grow on offense
Rutgers has improved offensively to a level where it can compete, but this offense has a limited ceiling.
The Scarlet Knights are still short on perimeter shooting. Rutgers attempts only 26.4% of its shots from 3-point range, the fewest in the conference, and only 45.5% of its made field goals have been assisted, the second-lowest rate in the conference.
Rutgers is ranked last in the Big Ten in transition offense, both points per game and efficiency (points per play). The Scarlet Knights lead the Big Ten in isolation plays per game.
Those are all signs of an inefficient offense. Rutgers has only scored more than 1 point per possession three times against a high-major opponent — at Nebraska, Minnesota, and Wisconsin — and has been held under .9 points per possession six times in 18 games (amazingly winning three of them).
If the defense cracks even a bit, it will be hard for the Scarlet Knights to manage to keep pace — a vulnerability that could be tested in Iowa City on Wednesday night.
The 3-point concern
If things go sideways for Rutgers down the stretch, it will inevitably be because its opponents make threes.
The Scarlet Knights are ranked 13th in the conference with league opponents attempting 40.2% of their shots from outside the arc. Through seven league games, those teams are shooting just 25.9% from long distance, the second-lowest percentage in the conference.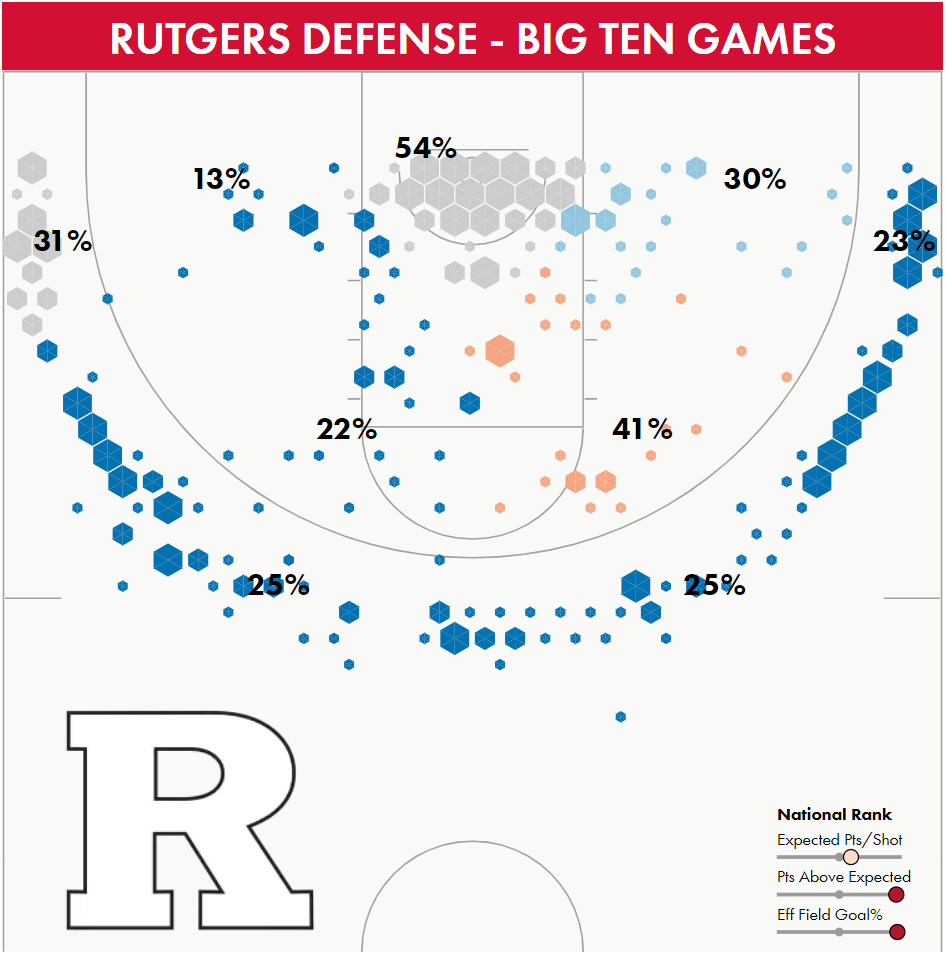 Allowing 3-point attempts in a Big Ten where teams are shooting 31.1% from outside in league games doesn't seem like an awful idea, but the law of averages could eventually catch up.
In seven Big Ten games, Rutgers' opponents attempt 7.6 more 3-pointers per game but only make 1.1 extra three per game.
How sustainable the approach is will come down to whether there's a dark art to preventing 3-point accuracy or if it comes down to a bit of luck. Opinions vary, but the truth is probably somewhere in the middle.
The Scarlet Knights are one of the longer teams in college basketball, ranked 33rd in average height with only one player shorter than 6-foot-4 in the rotation. It should be hard to shoot over this defense.
On the other hand, only 53.5% of the catch and shoot attempts that Rutgers allows are tagged by Synergy Sports as "guarded," which is only the sixth-best rate in the conference.
Can this team make the NCAA Tournament?
Momentum is incredibly powerful in college basketball, and the Scarlet Knights have it. This team is playing its best basketball in decades over the last month and expects to win games, especially at home.
A generous conference schedule should also help. Rutgers has the easiest schedule in the league this year, per Bart Torvik, one that only includes nine road games. The Scarlet Knights will face Michigan at Madison Square Garden in what was supposed to be a Michigan home game.
Rutgers also doesn't have to travel to Indiana or Minnesota, two programs that it already beat, and will be fighting against for an NCAA Tournament spot.
On the other hand, the Scarlet Knights best win away from home was at Nebraska, and they still have to travel to Maryland, Ohio State, Wisconsin, Iowa, Penn State, and Purdue.
Those games are a tough ask away from the RAC, which means the season might come down to the two games against Michigan and home games against Maryland, Purdue, and Illinois.
Given how well Rutgers defends, it has a chance.