Making sense of the messy Big Ten
There are 12 top 40 teams in the Big Ten but it isn't always pretty when they play each other.
It was a wild week in the Big Ten as 12 teams lost at least once, and the consensus favorite lost by 29 points on the road against a team that many pundits were eager to write off.
That's life in the Big Ten this year, where 12 of 14 teams are legitimately good enough to make the NCAA Tournament, and there are no easy games.
Trying to separate up from down in a league where 11 teams have two or three losses is nearly impossible at this juncture, but that doesn't mean we can't try.
Plotting the offensive and defensive efficiency of conference teams in league play reveals that most teams are settling in as specialists on one side of the court.
There's a distinct group of teams with great defenses and bad offenses, and another with bad defenses and great offenses. There are only two teams in the conference ranked in the top-six in offensive and defensive efficiency in league games.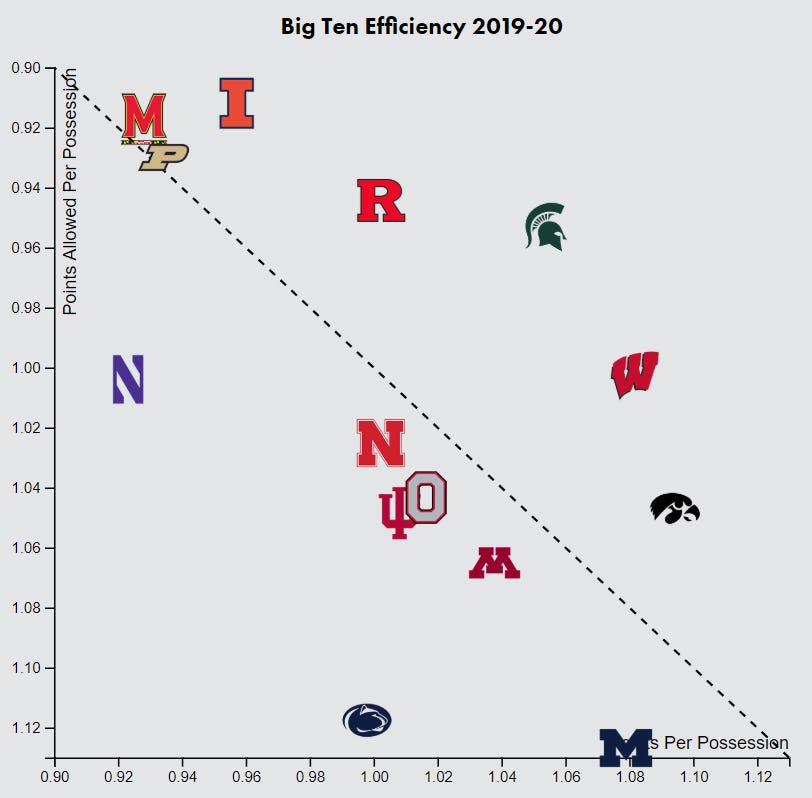 Balanced
Michigan State and Wisconsin are the only Big Ten teams ranked 6th or better in offensive and defensive efficiency.
Michigan State (+10.2 points per 100 possessions): Michigan State played its first road game against a top-12 team in the conference and didn't even show up to the fight. I still think the Spartans are the best team in the league, but road games on Jan. 23 and Jan. 26 at Indiana and Minnesota will give us a better read on how well their attack travels.
Wisconsin (+8 points per 100 possessions): Wisconsin has been the pleasant surprise of early Big Ten action. Road teams have only won five of 37 games in conference play, and the Badgers have been involved in three of them (two wins, one defeat).
Wisconsin currently has the No. 2 offense in the conference at 1.07 points per possession, but I'm worried about its sustainability.
Only 37.8% of Wisconsin's made field goals have been assisted, the lowest rate in the conference. Per Synergy, a Big Ten-leading 19.6% of Wisconsin's shot attempts are off the dribble jump shots.
The Badgers attempt the second-most mid-range shots in the league but are the second-most accurate mid-range shooting team at 42.5%.
The strategy has been successful up to this point. Still, it would be surprising if Wisconsin continues to lead the conference in effective field goal percentage while attempting so many tough twos.
Defense-first
Illinois, Maryland, Purdue, and Rutgers grade out with top-six defenses and mediocre offenses. All four teams have positive efficiency margins, something we can't say about the offense-oriented teams in the league.
Rutgers (+4.8 points per 100 possessions): Rutgers hasn't lost a home game yet and its defense leads the way. The Scarlet Knights are the best defensive rebounding team in the conference, but their 3-point numbers pose some concern moving forward.
Big Ten foes are attempting 6.8 more 3-pointers per game against Rutgers. Those shots aren't going in right now, but if they start to, it could pose a problem.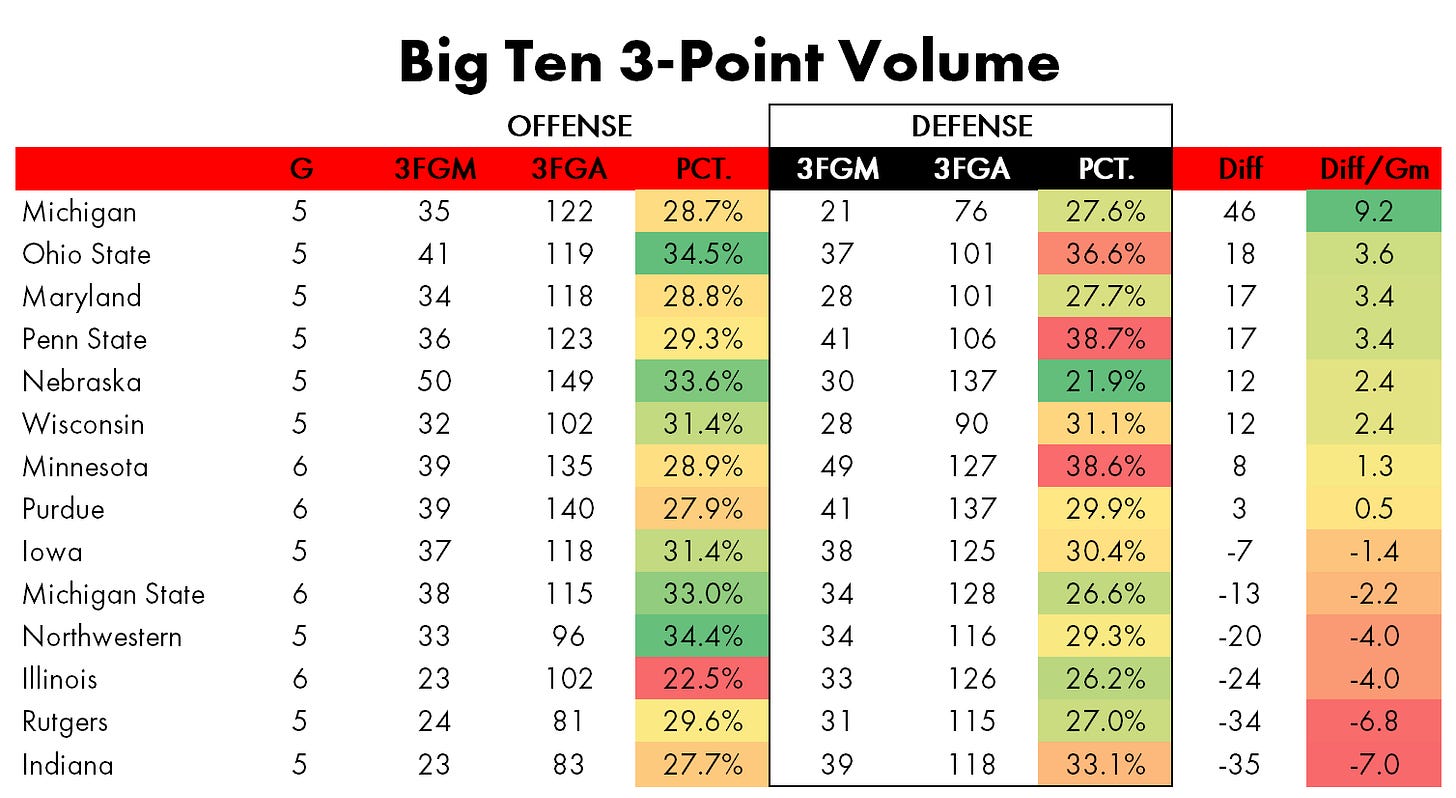 Illinois (+4.6 points per 100 possessions): Brad Underwood (and Kofi Cockburn) deserves a lot of credit for addressing his team's fatal flaw.
Underwood abandoned the over-aggressive style of defense that led the Big Ten in forced turnover rate but finished 13th in 2-point field goal percentage defense.
Now his team has the Big Ten's best defense and allows just 42.9% shooting inside the arc while only forcing turnovers on 15% of possessions.
League opponents are shooting 48% at the rim this year, down from 61% a year ago.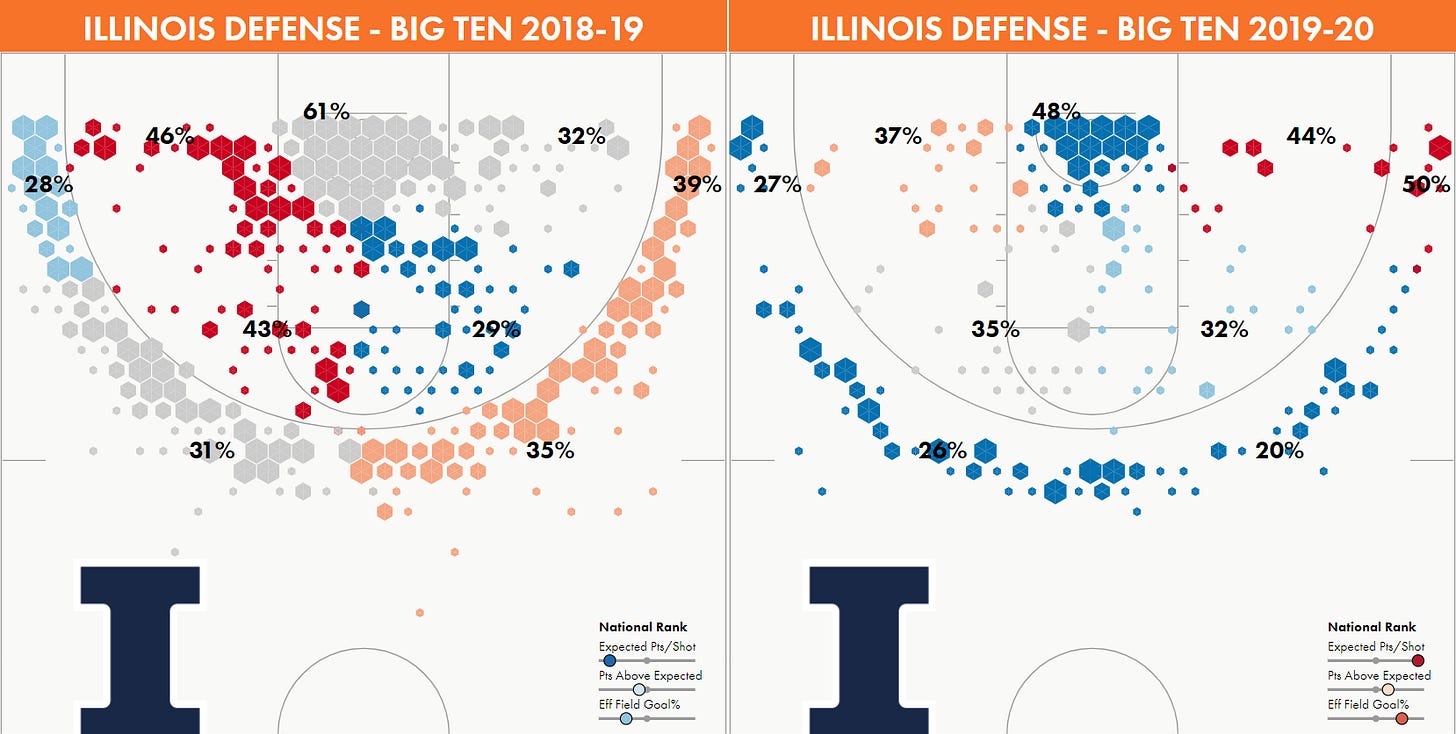 Maryland (+1.2 points per 100 possessions): Maryland's offense is struggling because the players it expects to make jump shots aren't making them. Aaron Wiggins and Eric Ayala were elite shooters last year and have taken a significant step back in 2019-20.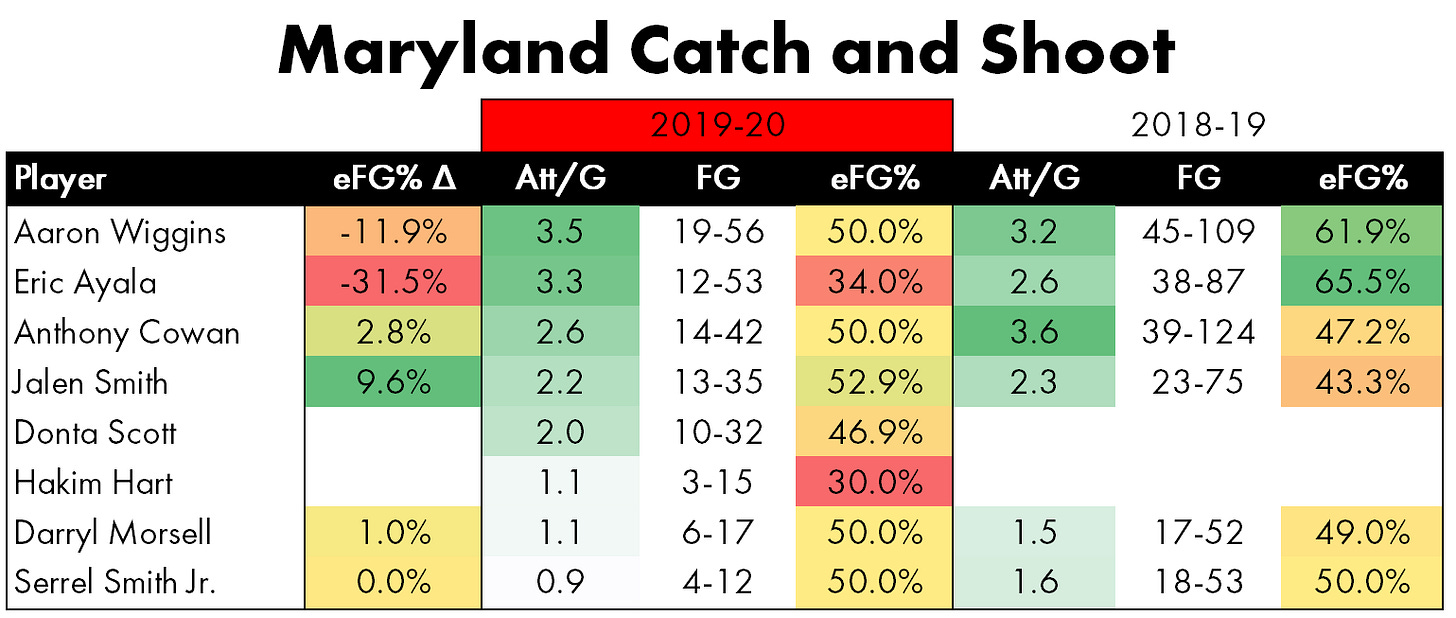 Purdue (+.5 points per 100 possessions): Illinois has turned its defense around by not protecting the basket instead of forcing turnovers, but Purdue has the No. 3 defense in the league thanks to a Big Ten-leading 19.6% forced turnover rate.
The ability to force turnovers over spearheaded Purdue's home upset of Michigan State. Cassius Winston had nine turnovers, and the Spartans turned it over on 30% of their offensive possessions.
Offense-first
Iowa, Michigan, Minnesota, and Ohio State are the four teams in the conference that have top-six offenses and mediocre defenses.
Iowa (+4.8 points per 100 possessions): Joe Wieskamp has ended any discussion of a sophomore slump. Among players with 20 percent usage, Wieskamp is the third most efficient offensive player with a 121.9 offensive rating, and he leads the league 17 made 3-pointers in league games.
Wieskamp averaged just 12 points per game in Iowa's first 11 contests, but he's averaging 20.8 points per game since Jordan Bohannon shut his season down due to his hip injury.
Minnesota (-2.7 points per 100 possessions): Daniel Oturu is the man in Minneapolis, but Marcus Carr has turned his season around in Big Ten games. He's been significantly more efficient from the floor and outplayed Zavier Simpson on Sunday, finishing with 21 points on 13 shots with 12 assists and zero turnovers.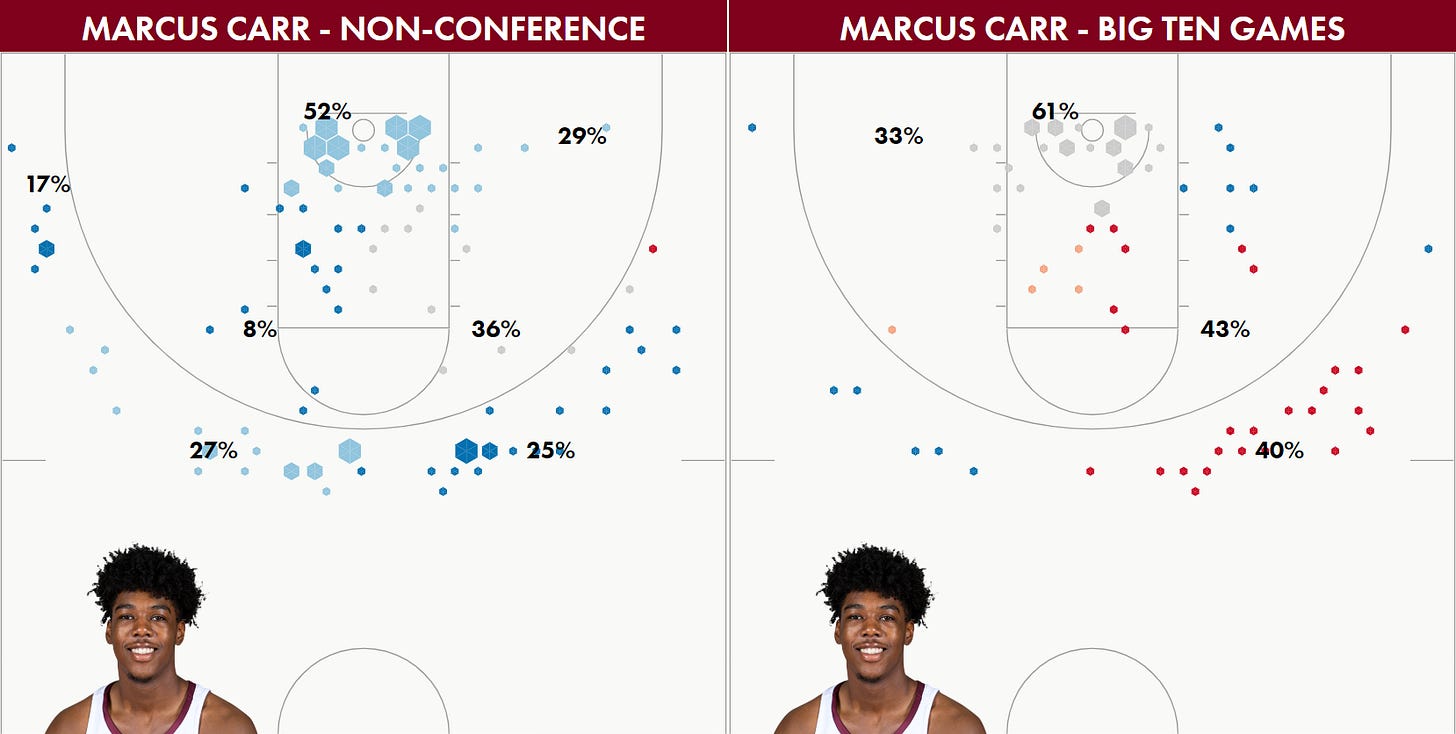 Ohio State (-2.7 points per 100 possessions): Ohio State's offense still ranks in the top six mostly because it dismantled Penn State over a month ago. The Buckeyes scored 1.51 points per trip against the Nittany Lions and only .88 points per possession in every other Big Ten game.
Ohio State's issues start in the backcourt. Highly touted freshman DJ Carton is turning the ball over on 36.8% of his possessions in conference games, the second-worst mark in the league.
His backcourt mate CJ Walker leads the Big Ten in turnover rate at 2.9% but is only making 38% of his twos and 13% of his threes.
Michigan (-4.7 points per 100 possessions): Michigan's inability to defend the post is drawing many headlines, but the Wolverines have fallen off in three vital statistical areas on defense: rebounding, transition, and free-throw rate.

Room to grow
Nebraska, Indiana, Penn State, and Northwestern all fall outside of the top six on offense and defense.
Nebraska (-2.2 points per 100 possessions): Nebraska already has two Big Ten wins over top 20 KenPom teams and a better efficiency margin than Michigan, Penn State, Ohio State, Minnesota, and Indiana.
Indiana (-4 points per 100 possessions): Indiana has an old school offense. The Hoosiers are ranked 12th in 3-point volume and 13th in 3-point accuracy, but they pound the ball inside, crash the offensive glass and get to the free-throw line.
Northwestern (-8 points per 100 possessions): The Wildcats snapped a five-game losing streak with a 62-57 win over Nebraska on Saturday.
Penn State (-11.9 points per 100 possessions): Penn State has the most transition-dependent offense in the Big Ten. The Nittany Lions score 22.3 points per game in transition, over 6 points per game more than any other team in the league.
That ability to push the pace is critical, but it is a problem in the Big Ten where most programs play great transition defense. Among the 13 other teams in the Big Ten, 11 are ranked in the top 110 spots nationally in points per game allowed to transition.
That reliance on uptempo play was never more blatant than Penn State's 58-49 home loss to Wisconsin. The 62 possession game was the slowest that PSU has played this season.