Five thoughts on the Big Ten (2/10/20)
Why you shouldn't give up on Michigan State, Purdue's home/away splits, Lamar Stevens' favorite shot and more.
It was a wild weekend in the Big Ten as Maryland took over first place with a win at Illinois. The Terps are at the top of the pack, but there are still five other teams just a game back in the win column.
Here are five thoughts on the conference as the calendar edges closer to March. If you enjoy the newsletter, please subscribe, spread the word or forward it to a friend.
Don't give up on Michigan State
Michigan State has lost three games in a row and five of its last eight. The Spartans are just 16-8 on the season and are the first preseason No. 1 team to drop out of the top 25 since 1968.
A month ago, Tom Izzo's team was 5-0 in the conference, and some were wondering how many games the Spartans would win their third-straight regular-season conference title by.
It is tempting to throw in the towel on this team, but that would be a mistake. Michigan State's perceived struggles are mainly a product of expectations. The Spartans played four of their first five league games at home with the lone road game at last-place Northwestern.
If some of Michigan State's tougher games had been shuffled in with that easy start, the situation might not feel so dire.
The numbers say that Michigan State is still the best team in the Big Ten. It won't be easy to prove it with so many challenging games left on the schedule — starting with at Illinois and home versus Maryland this week — but it would be a mistake to count out the Spartans.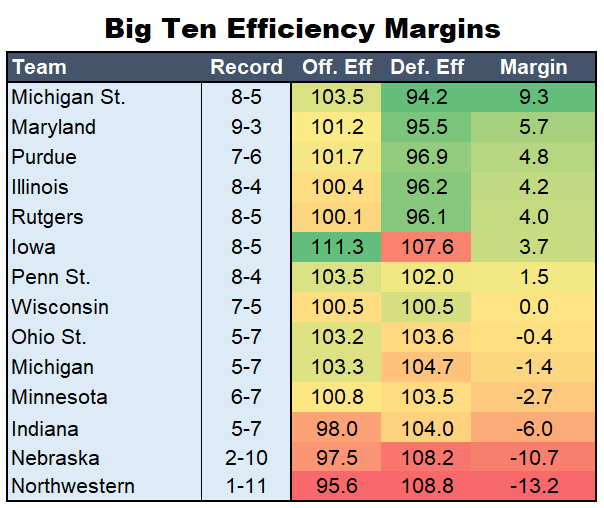 Home sweet home in Mackey Arena
Purdue is a different team in Mackey Arena. The Boilermakers are 5-1 in Big Ten games in West Lafayette and 2-5 away from home.
They've outscored league opponents by 22.1 points per 100 possessions in Mackey and been outscored by 9.7 points per 100 possessions away from home.
The shooting splits are particularly jarring. At home, Purdue touts a 53.8 eFG% and makes 42.3% of its 3-pointers. In conference road games, the Boilermakers have just a 41.9 eFG% and shoot 27.3% from 3-point range.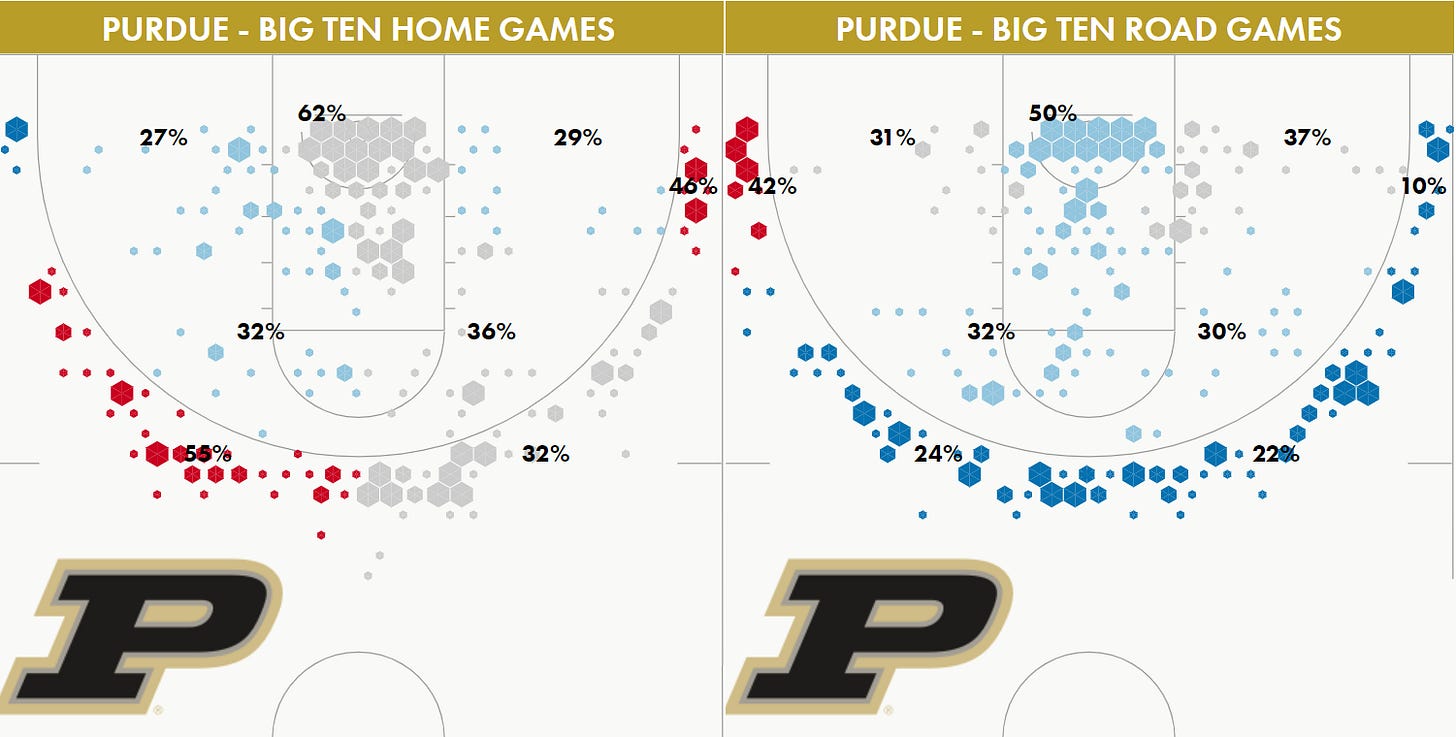 The Lamar Stevens zone
The basketball analytics community's disdain of mid-range jumpers is well established. Why take jump shots worth two points when you can back up a few feet and take jump shots worth three points?
Despite the relative inefficiency of those shots, there's still a lot of value in having a dynamic player who can create and make those shots at an above-average clip.
Penn State senior Lamar Stevens is that guy. Stevens averaged 28.5 points per game in a pair of wins over Michigan State and Minnesota last week. He did most of his work in the mid-range, where he knocked down 11 shots over two games.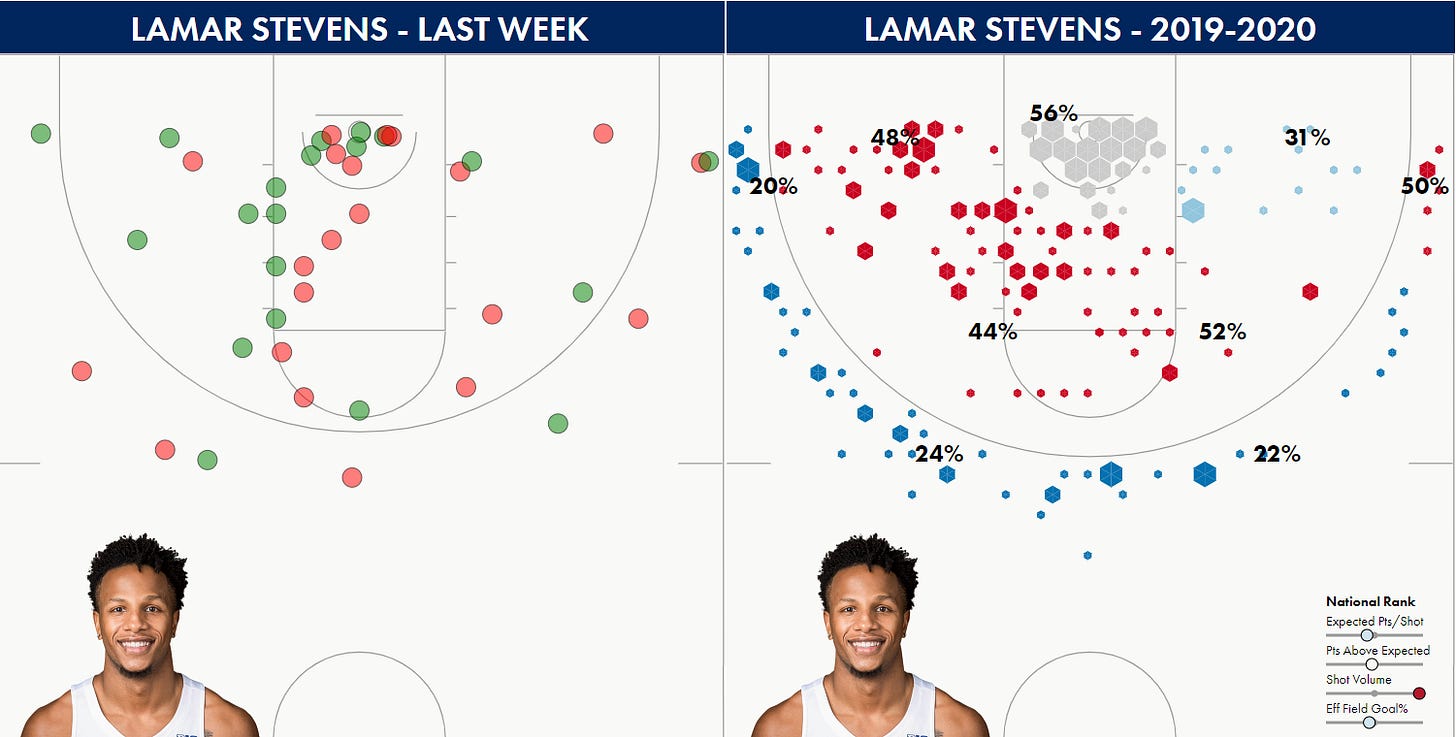 Michigan's defense is improving
Through the first half of Big Ten play, Michigan's defense was the worst in the conference.
The Wolverines were one year removed from having the second-best defense in college basketball but were getting abused by conference teams. League foes were scoring 1.14 points per possession against Michigan and shooting 54% inside the arc over the first six games of the conference schedule.
Slowly but surely, the Wolverines have started to put their defense back together. Michigan is only 3-3 over its last six games, but two of those losses were on the final possession. During that span, the Wolverines are allowing just .95 PPP compared to 1.14 PPP to open league play.

That defensive effort was critical in Saturday's win over Michigan State. Michigan held MSU to .96 points per possession, its fourth-worst offensive game of the 2019-20 season.
Warning signs in Bloomington
Indiana sits at 15-8 (5-7 Big Ten) in one of the most uncomfortable positions in the Big Ten. The Hoosiers have lost four straight, including two at home. They still have to play four road games, and six of their final eight games are top-50 caliber adjusting for venue.
Among the Big Ten's 12 teams in contention to make the NCAA Tournament, Indiana's efficiency margin statistics are well below the rest. The Hoosiers have been outscored by 6 points per 100 possessions and grade out 10th or worse in offensive and defensive efficiency.
The Hoosiers have a soft landing in the final week of the season with home games against fellow bubble teams Minnesota and Wisconsin. Still, an upcoming stretch vs. Iowa, at Michigan, at Minnesota, vs. Penn State, at Purdue and at Illinois looms large.