Cassius Winston reaches new heights
Michigan State is Michigan State again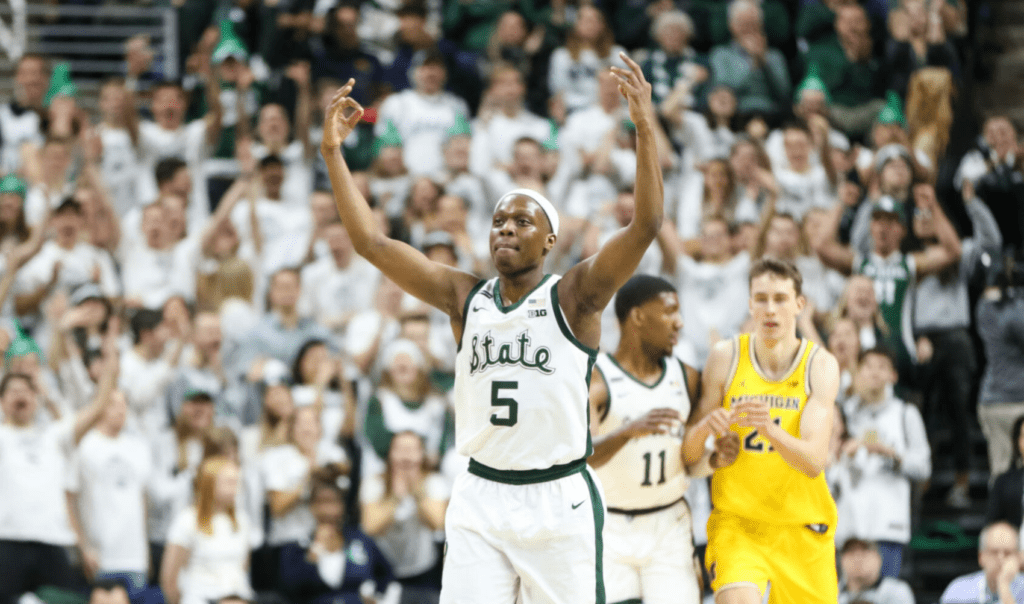 Through four Big Ten games, Michigan State is exactly what we expected.
The Spartans were unanimous conference favorites before the season, but many jumped off the bandwagon after non-conference defeats to Kentucky, Virginia Tech, and Duke.
Winston's senior season was supposed to be a waltz to National Player of the Year honors. Instead, he was forced to deal with an unthinkable tragedy that rendered any discussion of his basketball performance insignificant.
Winston hadn't been as efficient as he was last year because how could he have been?
He was scoring .72 points per shot out of ball screen and isolation plays, down from .85 points per play the previous year. He had been good, but he hadn't reached the same level that carried Michigan State to the Final Four.
On Sunday, Winston didn't just return to his 2018-19 level. He surpassed it.
Winston was nothing short of brilliant. He finished with 32 points on 11-of-19 shooting with nine assists to just two turnovers. Winston played close to a perfect conference season last year, but against Michigan, he played a perfect game.
After falling flat against Michigan and Zavier Simpson in 2018, Winston responded by playing the best basketball of his career against the Wolverines in four consecutive wins.
On Sunday, Winston scored 18 points using just 13 isolation and ball screen plays, per Synergy. That's 1.38 points per play, the most productive individual playmaking game of his career.
Winston has routinely saved that level of individual playmaking for the biggest moments. Four of his top 13 games as a ball screen/ISO scorer came against Michigan and two others were in the 2019 NCAA Tournament.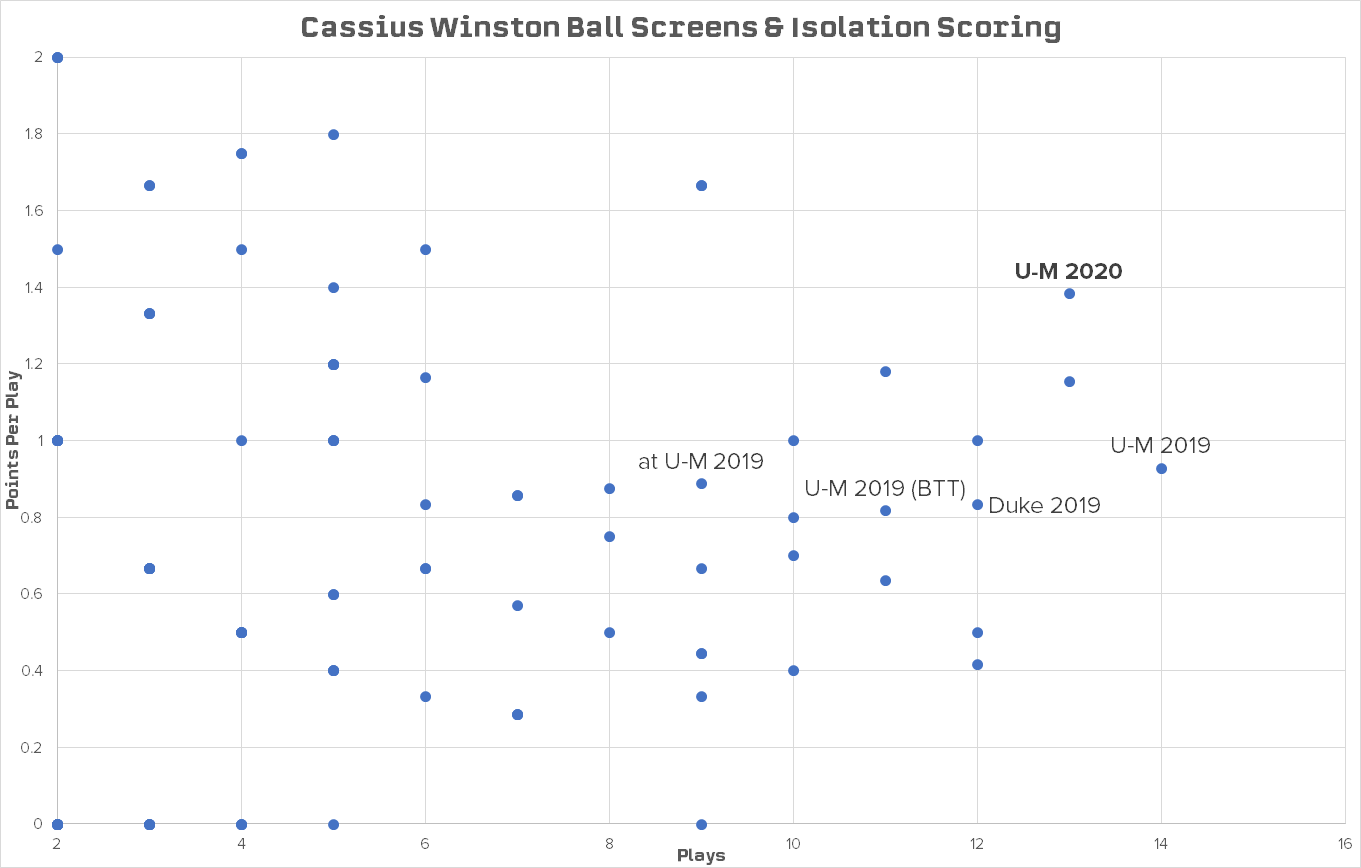 Michigan State won't always need Winston to perform at that level. On most nights, he'll be able to facilitate the Spartan fastbreak, spend time playing off the ball, and beat teams with his passing.
No one in college basketball chooses his spots better than Winston.
But Sunday's performance is an essential reminder that he can take over as a scorer when he needs to. There aren't many players in the country who can create their own offense and score that efficiently in critical spots. Winston can, and that is why Michigan State is still a Big Ten favorite and Final Four contender.
Don't forget about Wisconsin
The Badgers lost to Saint Mary's, Richmond, New Mexico, and N.C. State in non-conference play, but don't overlook Greg Gard's team in league play.
Through three games, Wisconsin sits second in the league in Big Ten efficiency margin stats after the most impressive win of the weekend on the road at Ohio State.
The Badgers are the only team in the league to beat a top-100 ranked team on the road in league play.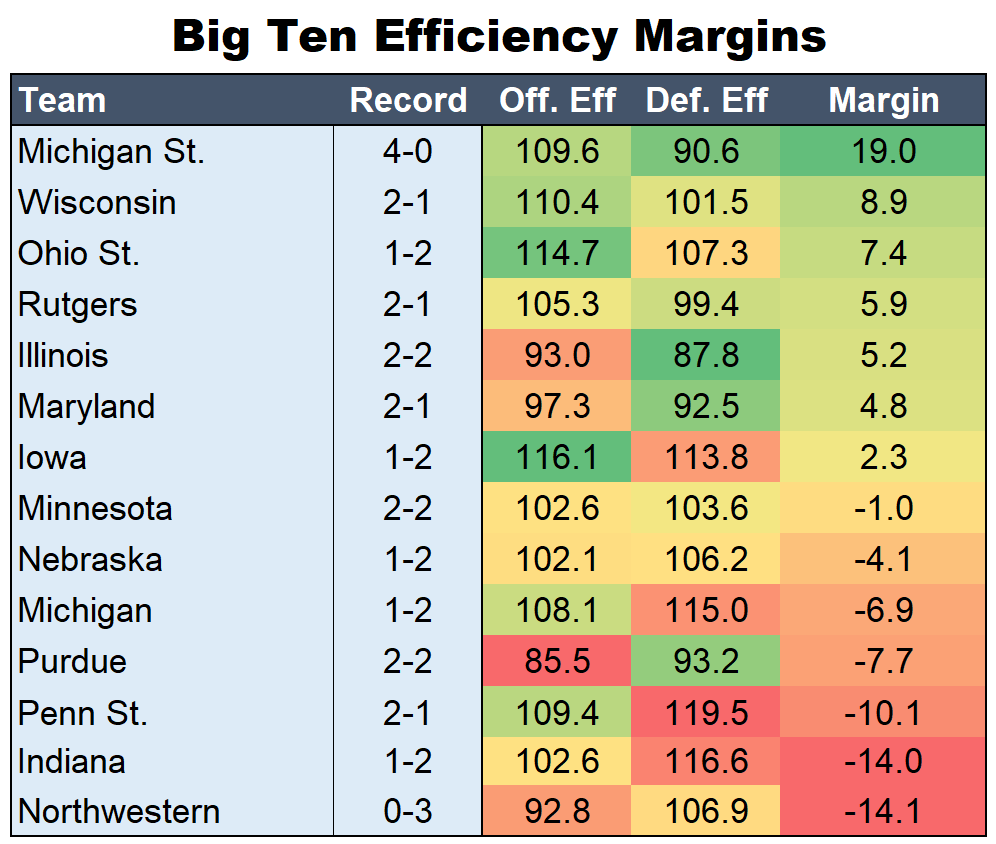 The fact that the Badgers are at the head of the "best of the rest" pack right now says more about every Big Ten team other than Michigan State than it does about the Badgers.
The middle of the league is deep, but it is hard to build a strong case that any team ranked in the middle of the league deserves to be on a tier above someone else.
The best defensive teams have struggled on offense and the best offensive teams have struggled on defense.
Game of the Week
The Big Ten game of the week was in Philadelphia, where Penn State survived a 75-possession shootout against Iowa at the Palestra.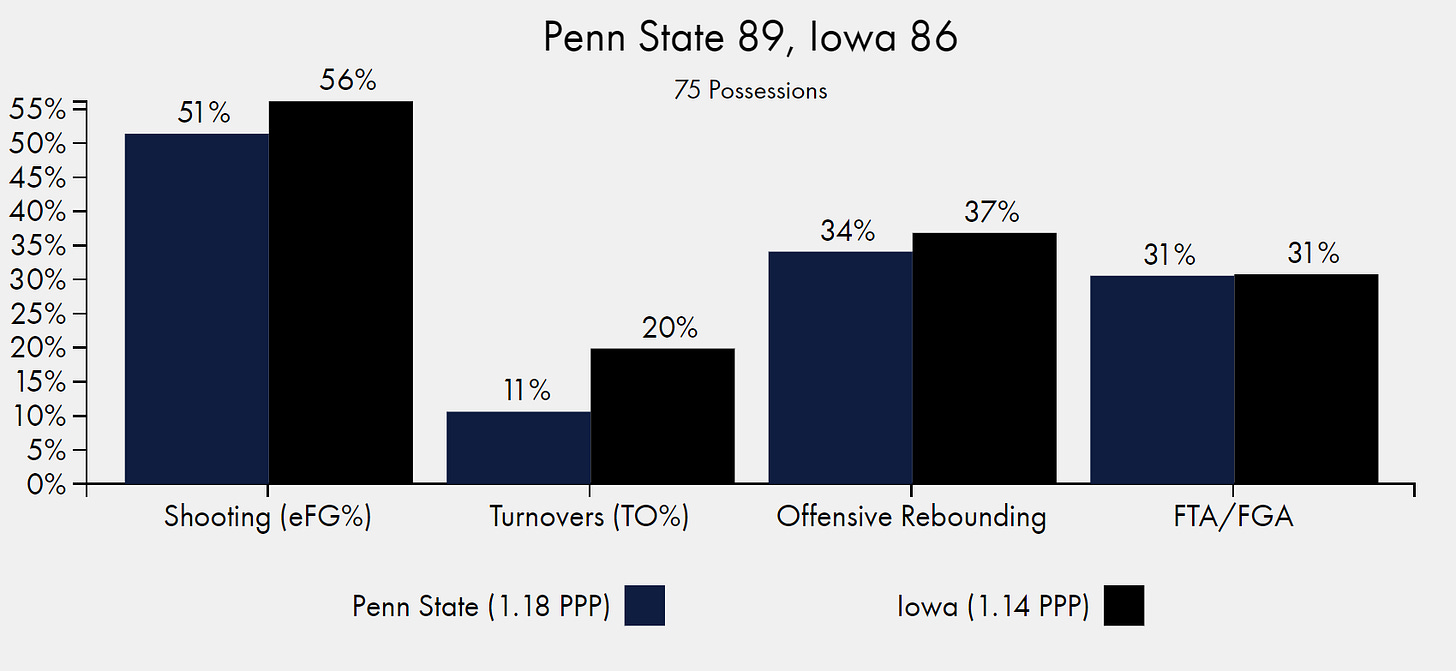 The game was by far the most entertaining of the weekend, but fun shootouts often warn us about flawed defenses. That appears to be the case here.
Iowa continues to experiment with both man-to-man and zone defenses, neither of which has been particularly effective. Penn State had a 56.5 eFG% against Iowa's man defense and a 46.5 eFG% against the zone.
The problem for Fran McCaffery is that his team can't protect the rim or prevent dribble penetration in man-to-man.
In three Big Ten games, Iowa's halfcourt man defense has allowed teams to attempt 55% of their shots at the rim and make 61.7% of those attempts.
The zone has done a better job of preventing those attempts — 26% of attempts around the rim — but not defending them — 71% shooting on those attempts. The zone simply forces more 3-point attempts, and Iowa's defense could look even worse if those outside looks start falling. Penn State, Michigan, and Minnesota combined to shoot just 31.6% from 3-point range against Iowa's zone.
Penn State's defense is allowing a league-worst 119.5 points per 100 possessions in Big Ten games. A blowout loss in Columbus still skews the early-conference stats, but there are real concerns.
Pat Chambers' defense is built around disruption. The Nittany Lions lead the Big Ten in forced turnover rate, steal rate, and block rate in conference games.
In that respect, PSU is accomplishing its goal. The problem is that it is ranked 13th or 14th in eFG% defense, defensive rebounding, and free-throw rate.
All of that gambling on defense leads to a team that fouls too often, allows too many 3-point attempts, and hasn't been able to contain two of the best interior scorers in the conference in Kaleb Wesson and Luka Garza.
This is the Brad Underwood problem. Underwood's defenses at Illinois consistently accomplished exactly what they set out to do — force turnovers — yet finished near the bottom of the league in defensive efficiency.
Underwood implemented a new scheme this year that focuses more on avoiding fouls and defending the paint rather than fouling. In a shocking development, it works! Illinois is allowing just .88 points per possession in league play and has already climbed 74 spots up the KenPom ranks in adjusted defensive efficiency.