Ayo Dosunmu is here
The league's breakout star was hiding in plain sight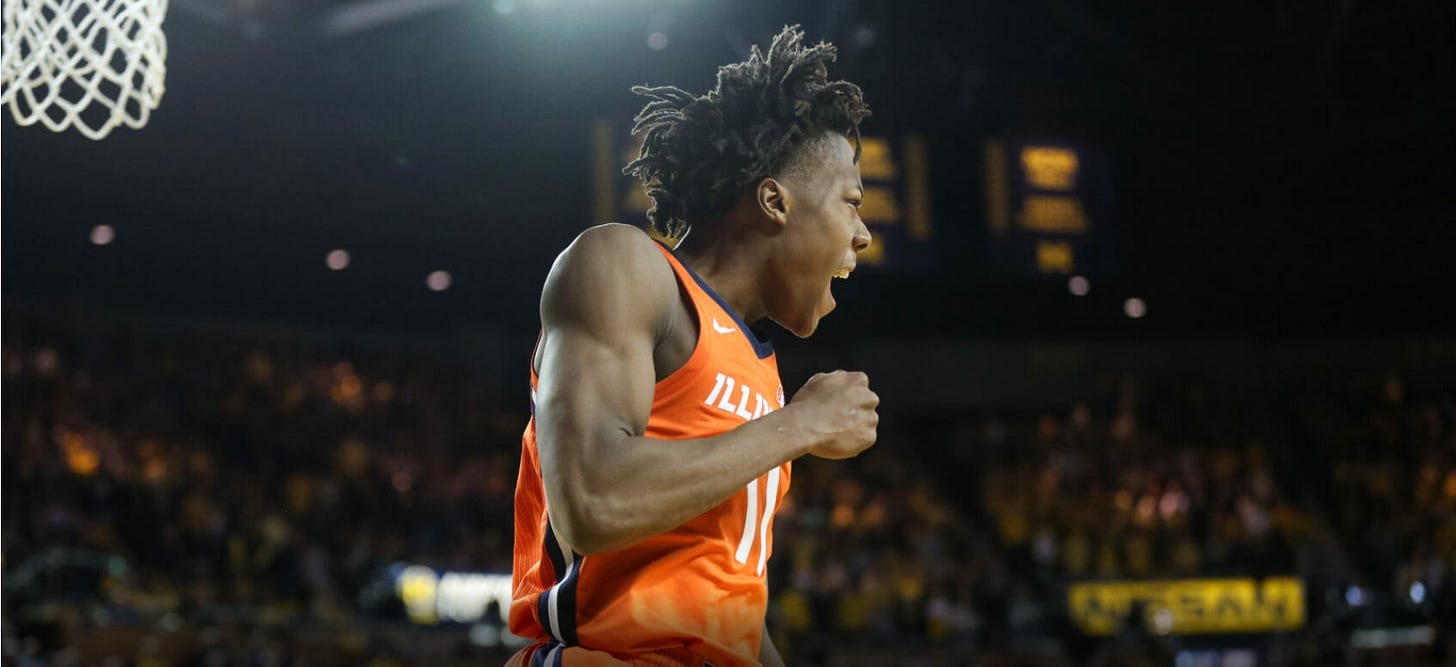 Welcome back to another edition of the Hoop Dispatch. If you haven't already, please subscribe to the newsletter to receive the latest Big Ten hoops stories directly in your inbox.
If you've already subscribed, please share the post with a friend and spread the word.
---
Ayo Dosunmu has never been short on talent. Since he arrived in Champaign, he's flashed it regularly. He's always been jet-quick in transition. He buried Michigan State as a freshman with a pair of huge 3-pointers.
Despite that undeniable talent, he's been hamstrung by consistency. His jumper has never been particularly reliable, and his best moments always seemed to occur in an open court game.
He was held to 10 points or fewer in 12 of 32 games as a freshman and four of Illinois' first 15 games of 2019-20.
Everything changed for Dosunmu in Madison in early January. He went to the Kohl Center and won the game, Illinois' first win on the road against the Badgers since 2010. Dosunmu was the KenPom MVP of that win, and in two of Illinois' next four league wins. He's averaging 19.2 points, 5.4 assists and five rebounds over the last five games, and his team has won six league games in a row.
He's always had the most upside in the conference, now he looks a Big Ten Player of the Year candidate.
A blossoming creator
Dosunmu isn't just playing better; he's expanding his game on the fly.
As a freshman, Dosunmu graded out as below average in ball screen and isolation situations.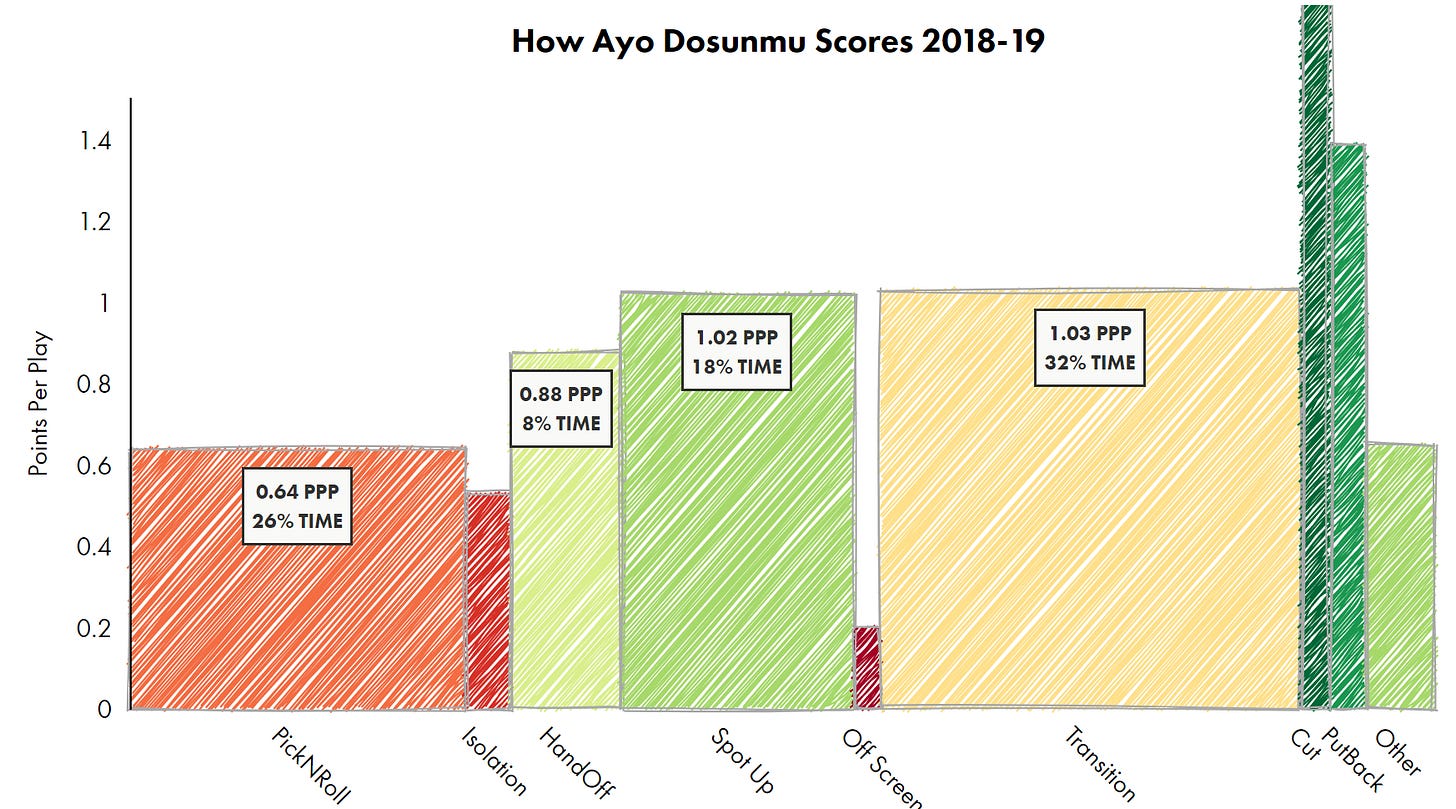 Through 15 games this season, the Illini were scoring just .66 points per play on his ball screen and isolation plays (including pass outs).
Over the last five games, all of that has changed. Dosunmu is averaging 9.8 ball screen and isolation plays per game, up from six per game over the first 15 games of the season. Illinois is scoring 1.02 points per play in those spots.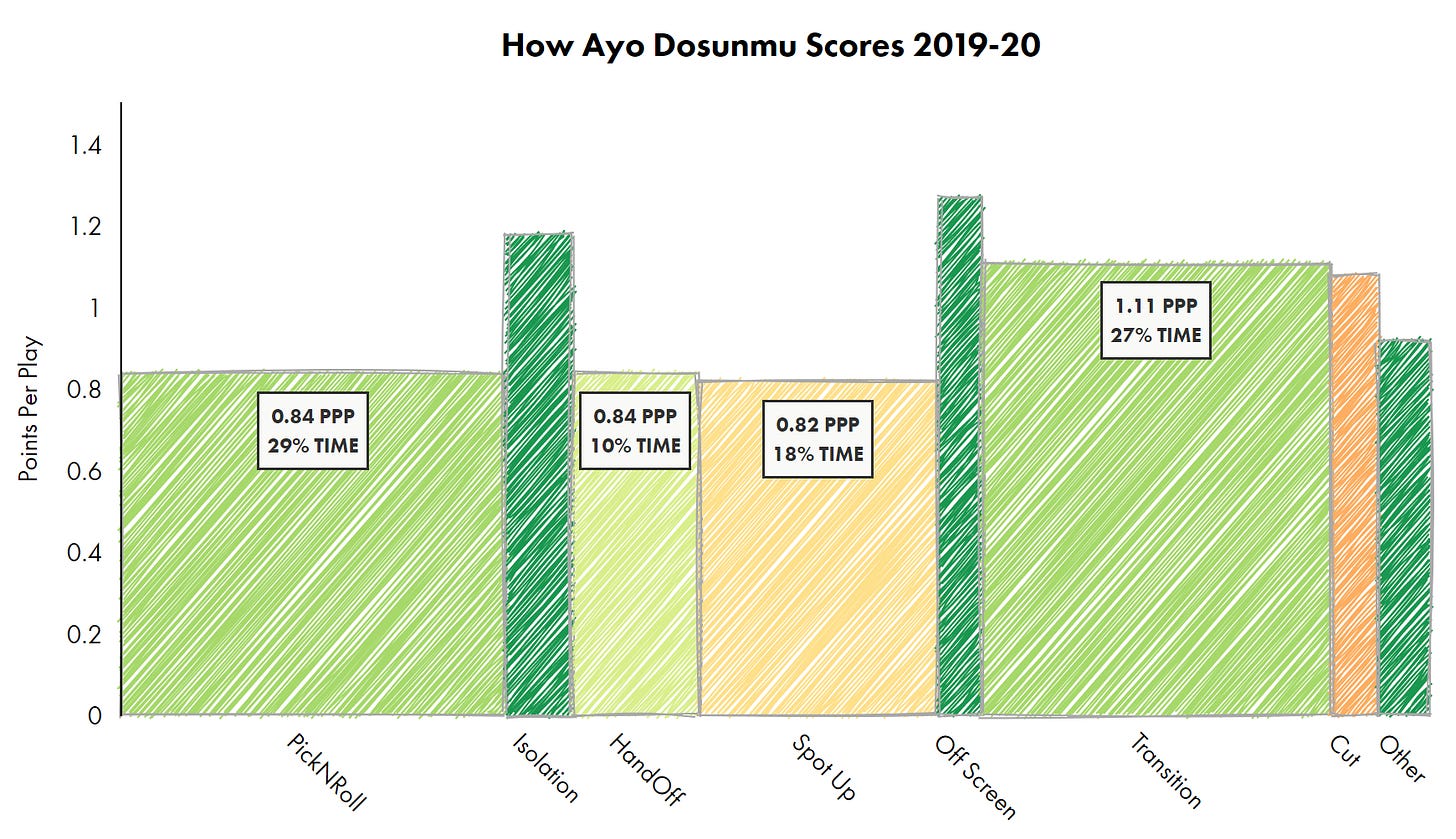 Dosunmu scored 12 points on six isolation plays against Michigan. Before Saturday, he had only scored 8 points on six isolation plays all season.
He was masterful using his pace and change of direction to create the shots he wanted. He buried long jumpers, got to the rim and finished in the mid-range. With the game on the line, Brad Underwood dialed up another isolation set for Dosunmu and he won the game.
His ability to make a play when there isn't an easy play has allowed Illinois to reach a new level.
The raw shot-making ability that Dosunmu showed in isolation situations is impressive, but his feel in the ball screen game is also expanding. Illinois does a great job of getting Dosunmu in a position to attack downhill out of ball screens, and his ability to find his teammates is as impressive as his scoring.
Saturday in Ann Arbor might be the day where Dosunmu's playmaking ability goes from a luxury to the whole story. He created 23 points in ball screen and isolation at Michigan, more than double his production in any other game this season.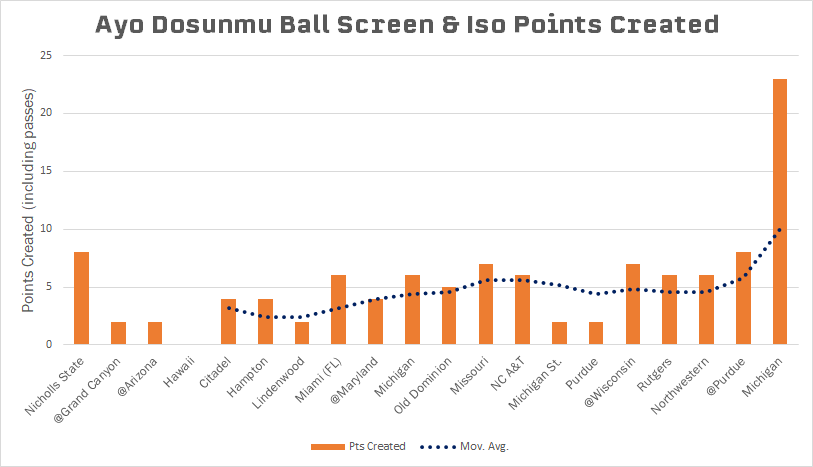 Special finisher
As Dosunmu adds wrinkles to his game, the thing that sets him apart hasn't changed. The 6-foot-5 guard has an uncanny ability to finish around the basket.
On the season, he's making 69% of his shot attempts within five feet of the basket. That is the sort of finishing that you expect from an elite big man or a cutter and finisher, not a playmaking guard.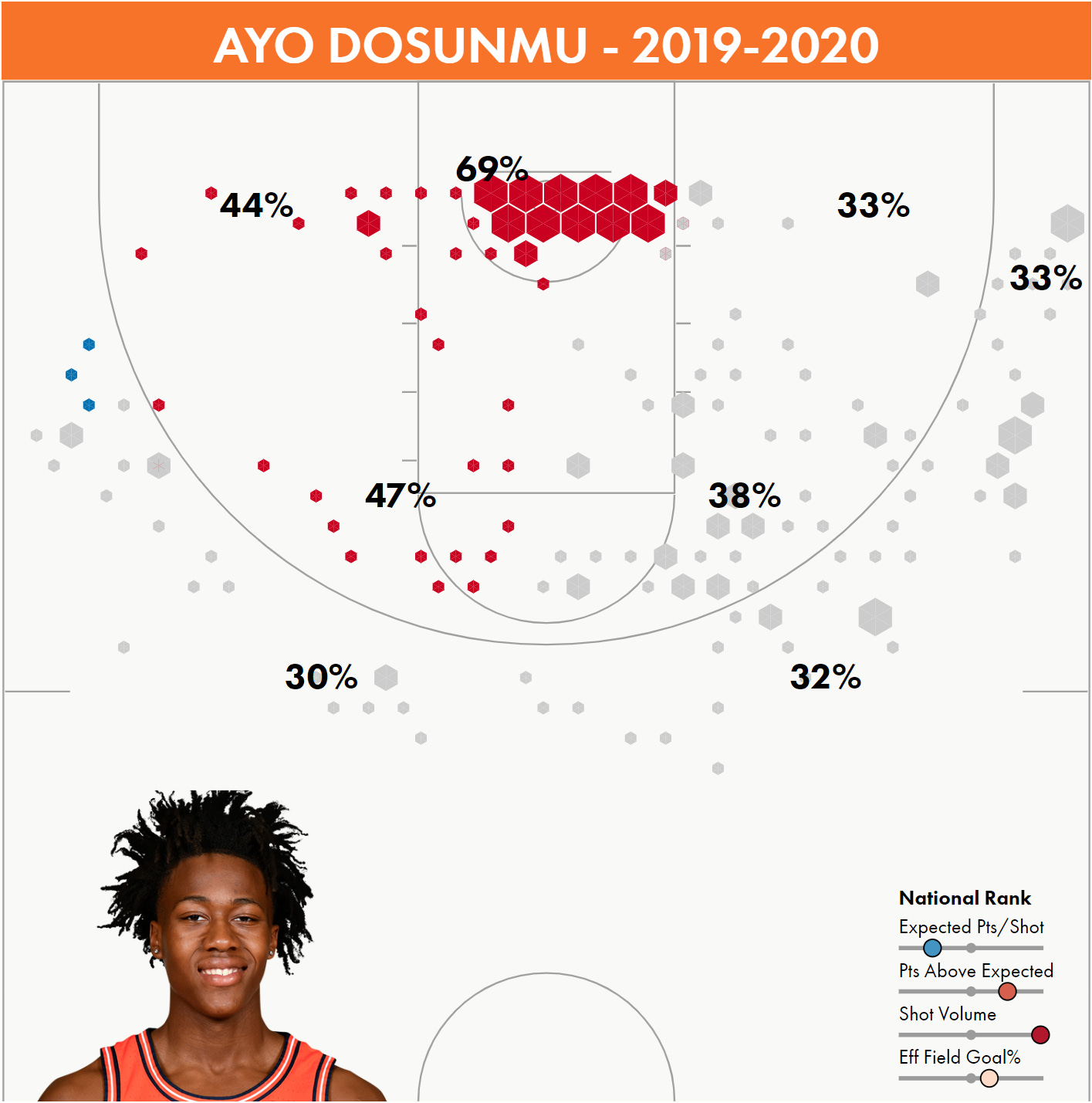 Dosunmu's finishing ability has translated into league play. He's ranked 11th in the Big Ten in made field goals around the basket, trailing mostly big men, but he's the most efficient finisher who has to create his own offense around the basket.
Dosunmu's 65% shooting around the basket is best in the conference among players who have less than 30% of their made field goals at the basket assisted.

It is his jump shot that will determine his long-term ceiling. For his career, Dosunmu makes 34% of his threes. This year, he's shooting just 29.5% from outside but is starting to heat up. He's knocked down 6 of his last 15 long-range attempts (40%) after starting the season at just 26%.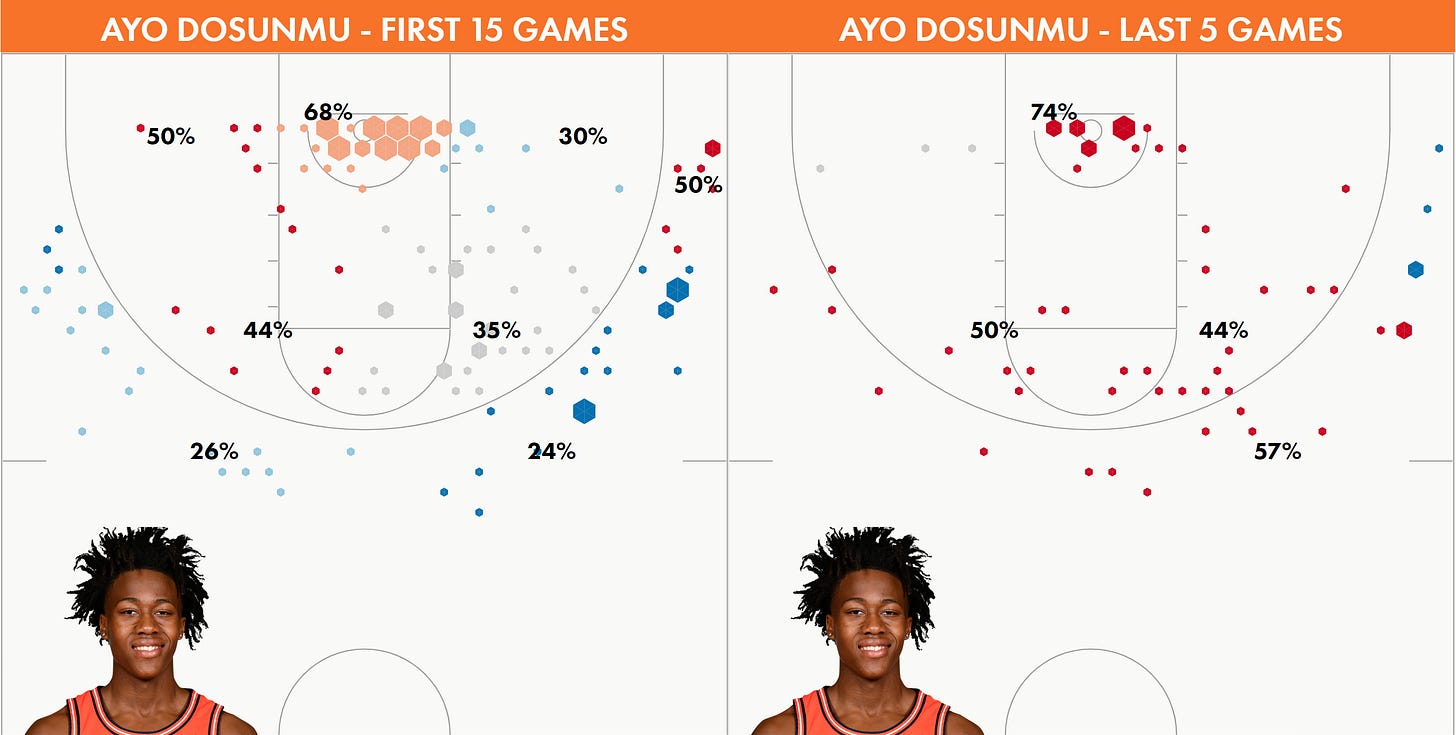 With his change of pace, elite finishing and reliable mid-range game, a consistent 3-point jump shot would make Dosunmu almost impossible to guard.
A guard in a big man's league
This might be the year of the post player in the Big Ten, but the race for the league title might come down to a pair of guards.
Dosunmu seems to add something new to his game every time the Illini take the floor. In a sport where playing your best basketball in March is all that matters, that's a scary proposition for the rest of college basketball.
There are so many things to praise about Illinois this season, especially Brad Underwood's defense. He embraced the fact that he had to change and recruited a player in Kofi Cockburn who made that happen.
That's all well and good, but at the end of the day, this Illini resurgence is about the player it was always supposed to be about. Ayo Dosunmu was recruited to take Illinois back to the NCAA Tournament for the first time since 2013 and he's on his way. Now we're all just watching to see where he ends up.