A look at five of the most interesting shooters in the Big Ten
Good shot selection or good shooting?
Instead of a deep dive into a particular team or player, this week's newsletter is going to focus on five of the most interesting shooters in the Big Ten.
We're going to dig into five of the most exciting shot charts in the conference including two candidates for Big Ten Player of the Year along with a few notable outliers across the conference.
Most Accurate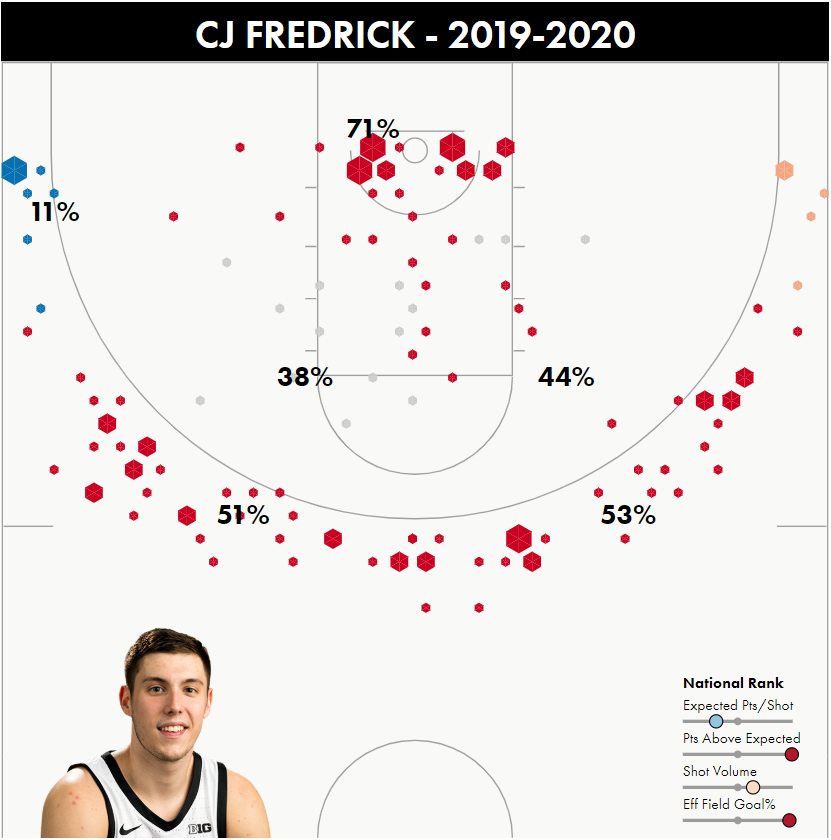 Iowa freshman CJ Fredrick leads the Big Ten in points over expectation (+.33) per shot attempt.
He's shooting better than 50% from both wings above the break. When considering his volume from those spots (67 attempts), that's staggering efficiency.
In the Big Ten, only five other players with more than 25 attempts shoot better than 40% on above the break threes. Michigan's Isaiah Livers (51%) is the only player in the conference shooting better than 44% on above the break threes.
Worst Shot Selection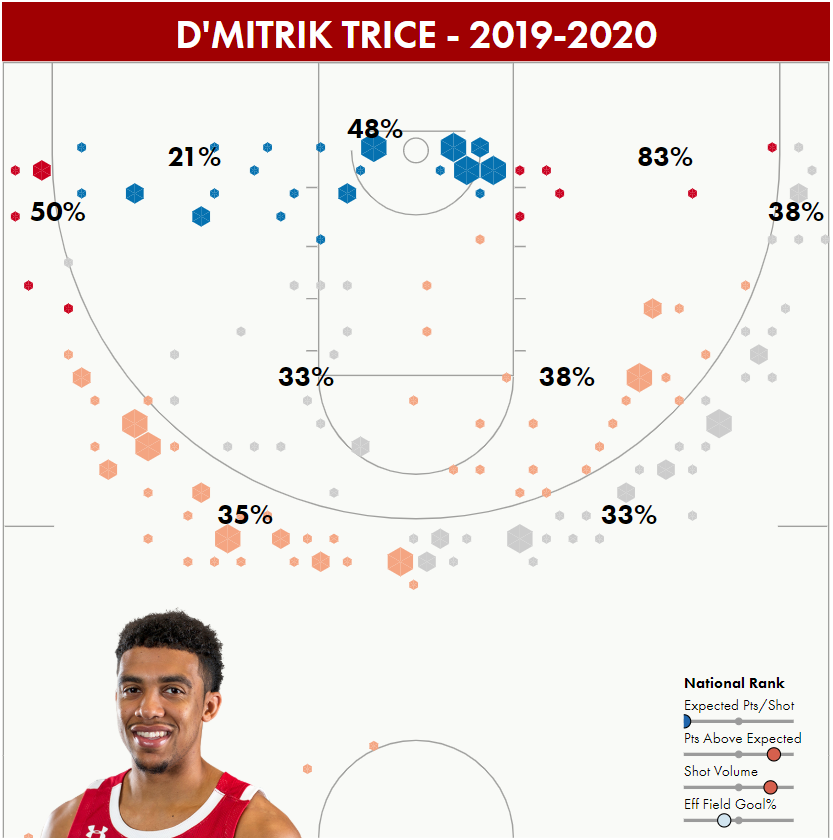 Wisconsin guard D'Mitrik Trice has the unfortunate distinction of the worst shot selection in the Big Ten.
He only attempts 11% of his shots at the basket, and he shoots just 48% on those attempts. He also has a knack for shooting long mid-range jumpers. Trice leads the Big Ten in jump shots off the dribble (44% of shot attempts) and shoots just 34.9% on those attempts.
Trice's shot selection doesn't just fall on Trice. He's one of Wisconsin's only reliable playmakers when the offense bogs down.
Best Mid-Range Scorer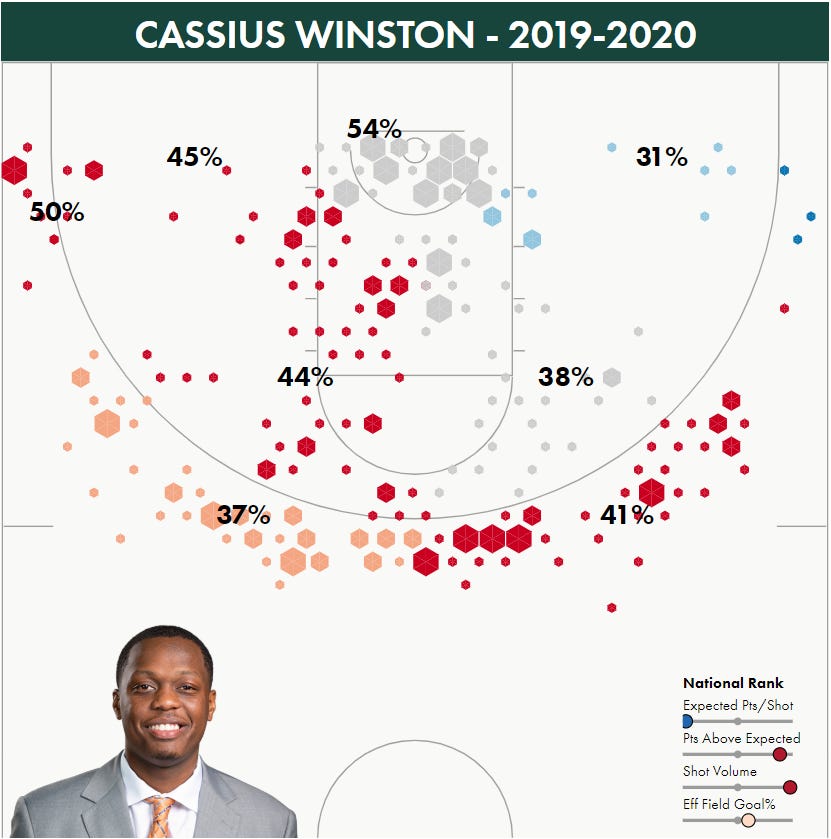 Michigan State guard Cassius Winston is a career 42% 3-point shooter, but he's also devastatingly efficient in the mid-range.
Winston leads the Big Ten in points scored from both elbows, shooting 41% on those attempts. He makes mid-range jumpers consistently, but he leads the Big Ten in points scored off of runners as well.
Winston can finish at the basket, near the basket, from the elbows, and from 3-point range. He's a good shooter off the catch or dribble and there's really no weakness to his offensive repertoire.
Least Accurate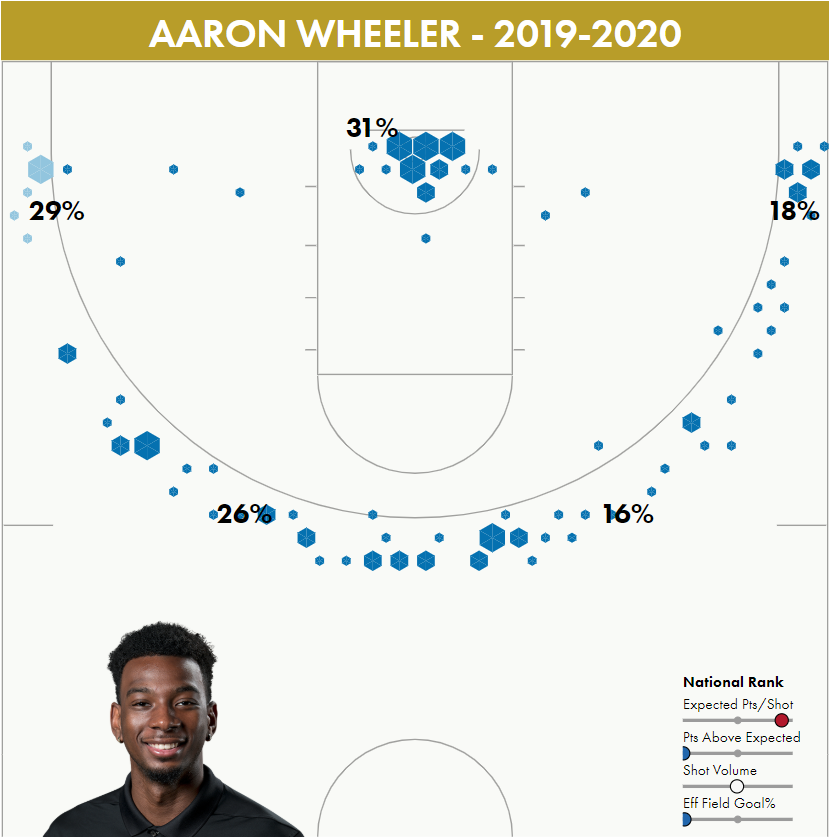 Purdue sophomore Aaron Wheeler is the other player on the list for the wrong reason.
Wheeler ranks dead last in the Big Ten in points versus expectation. Wheeler's shot attempts score .506 points per attempt less than expected based on their distance, shot type and other factors. Not only is that worst in the Big Ten, Wheeler's -.506 points versus expectation ranks dead last among the 2374 college basketball players with at least 75 attempts.
Wheeler's regression is tough to figure out because his shot selection is so ideal.
He only takes good shots; he just can't make them. He had a similar shot profile as a freshman and shot 58% on twos and 37% on threes for a 55.9% effective field goal percentage compared to just 29.5% this season.
Best Interior Scorer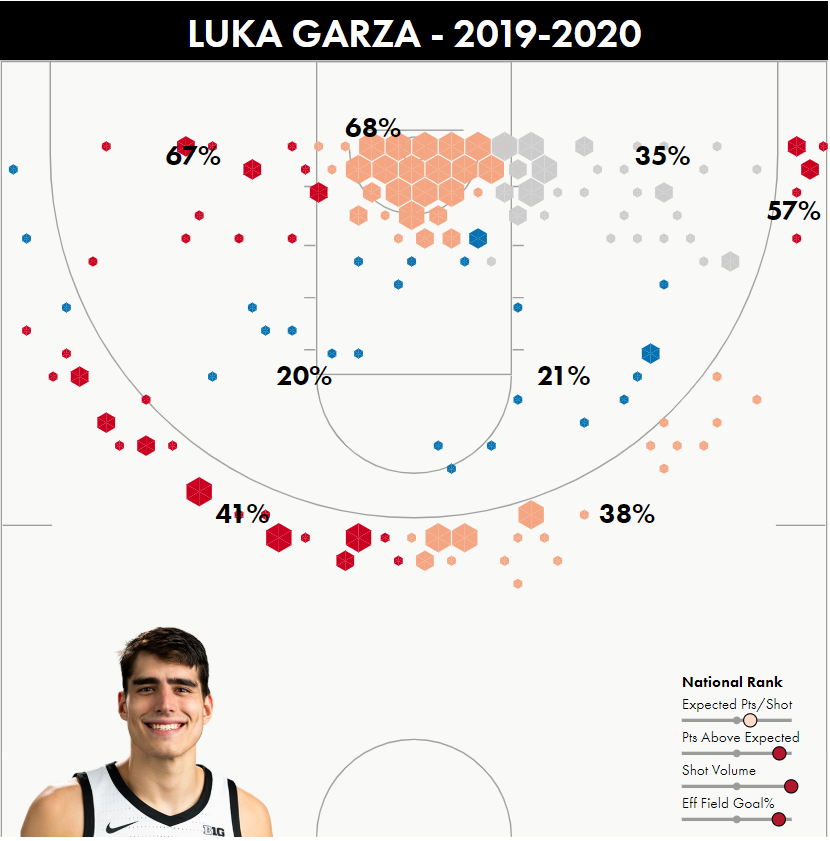 Iowa's Luka Garza is one of the best scorers in college basketball. He leads the Big Ten in field goals around the basket and from the baselines.
Garza is the second-most efficient player in the country who uses at least 28% of his team's offensive possessions. His ability to finish around the basket with such efficiency despite his high usage is impressive. His 3-point stroke and a reliable baseline jumper make him almost unguardable.